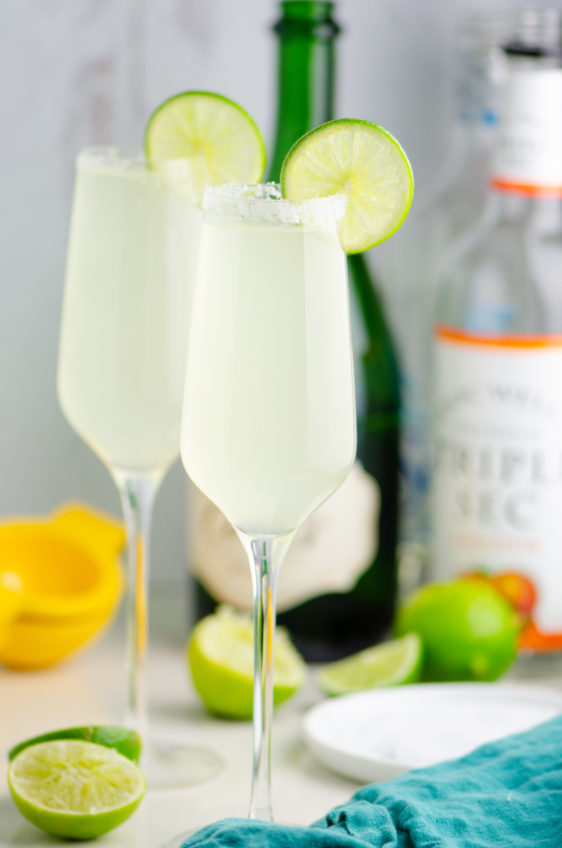 Champagne Margarita
A Champagne Margarita is a festive twist on Margaritas! With champagne, tequila, triple sec and lime juice it is perfect for that New Year's toast.
Looking for a festive twist on a margarita? Maybe you're celebrating a special occasion with Mexican fare and you want something that has a little more celebratory feel than your traditional margarita.
If that's you, then you need to try this Champagne Margarita! It's got all the flavor of a the traditional cocktail, but it's a bit more fun. Because…bubbles!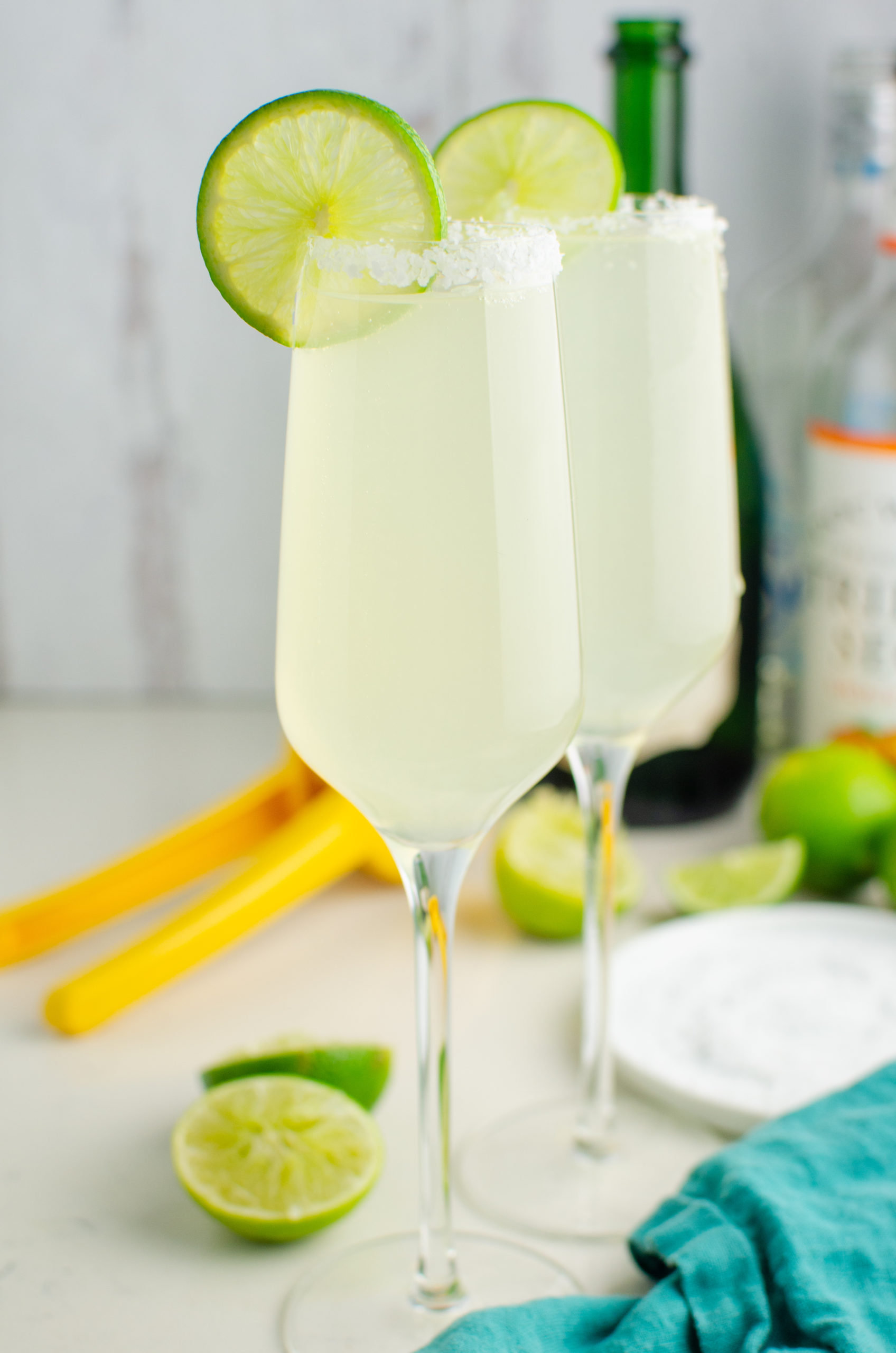 I stumbled upon the idea of a Champagne Margarita when I was looking for different Champagne cocktails to make for the New Year's holiday. I was determined to find a cocktail that might make me change my tune because, truth be told, I'm not a big champagne or sparkling wine drinker. 
However, second only to a mai tai, margaritas are my fave. I figured I'd try my hand at a champagne margarita. After all, a margarita with bubbles sounded pretty fantastic. 
And it is.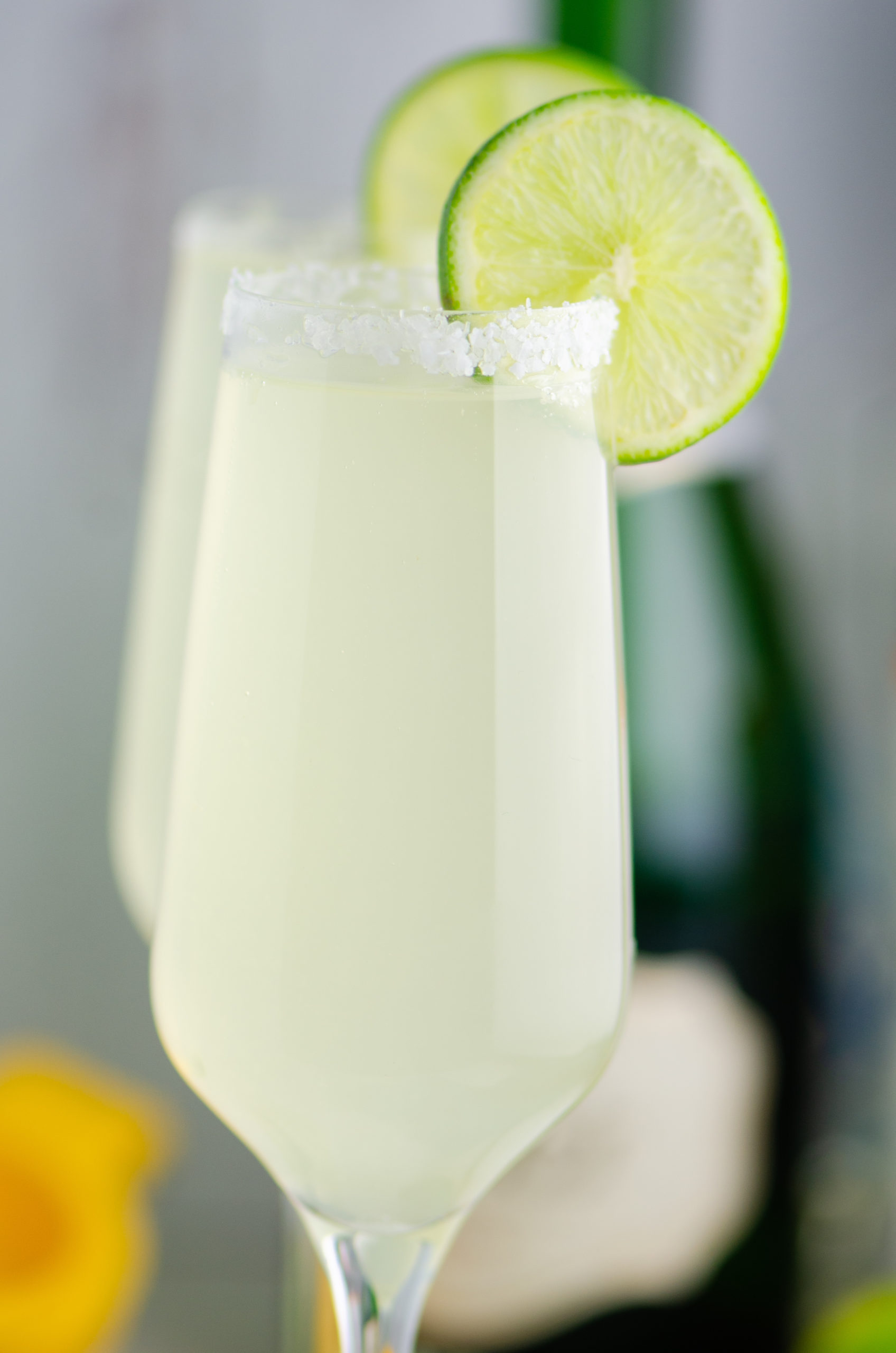 And you don't need many ingredients to make them or even fancy glasses. Although, the fancy glass does make it a bit more fun. 
What ingredients do you need?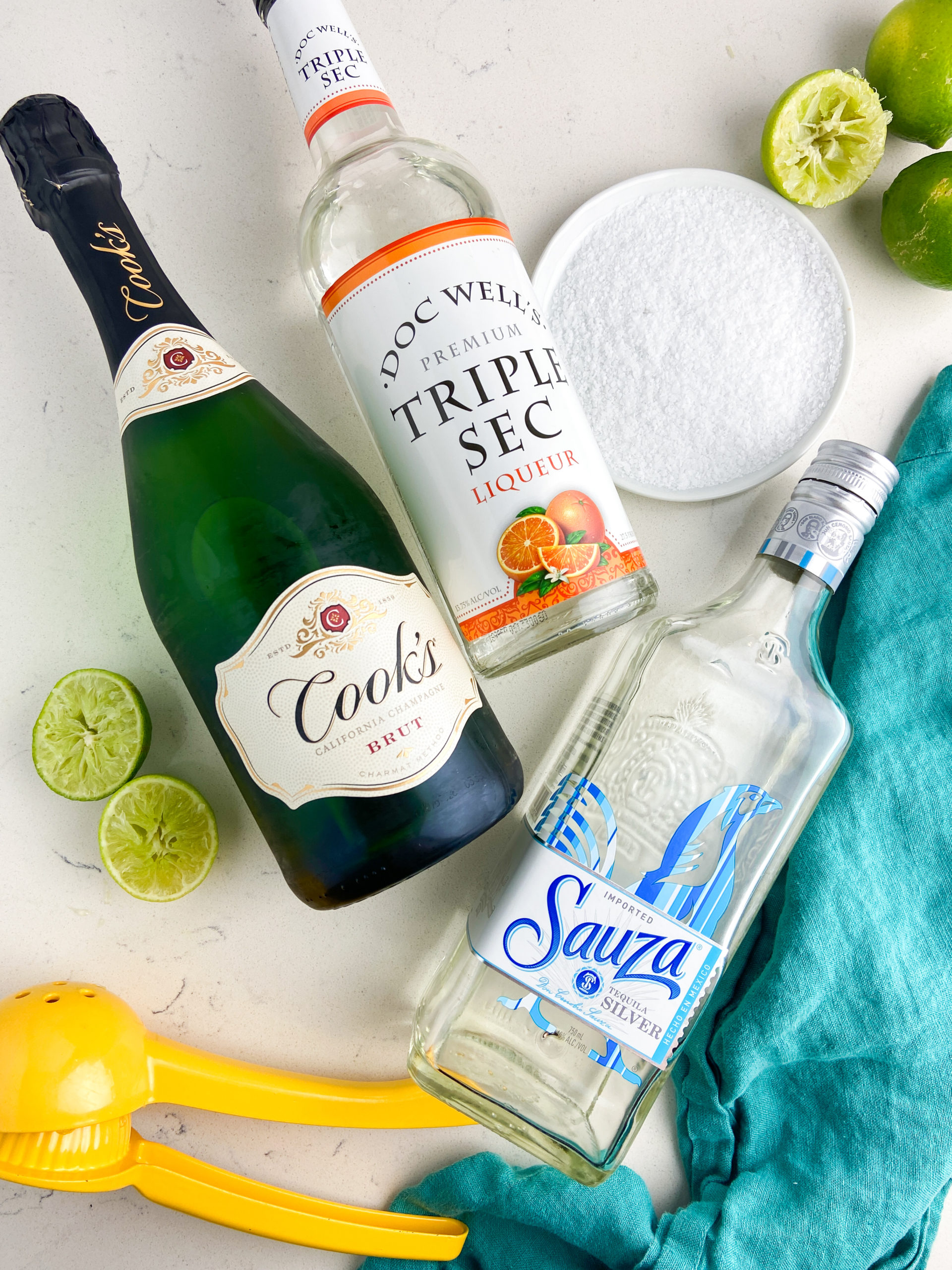 CHAMPAGNE: Since this is a mixed drink, I recommend using the less expensive stuff. You're not going to want to use a $70 bottle of champagne, that being said make sure it's something that you still like the taste of! You can use Prosecco too if that is more your jam. 
TRIPLE SEC: An orange flavored liquor, common in margaritas. 
TEQUILA: Silver or gold, whichever you prefer. We generally have silver on hand so that is what I used. 
LIME JUICE: Use the fresh stuff, trust me! 
SALT: No need to buy "margarita salt" kosher salt works just fine. Simply put it on a small plate or in a small bowl and you're good to go. 
How do you make a champagne margarita?
Easy. Peasy. 
First, you'll want to get your champagne flutes ready. To do that simply run a lime around the rim of the glass.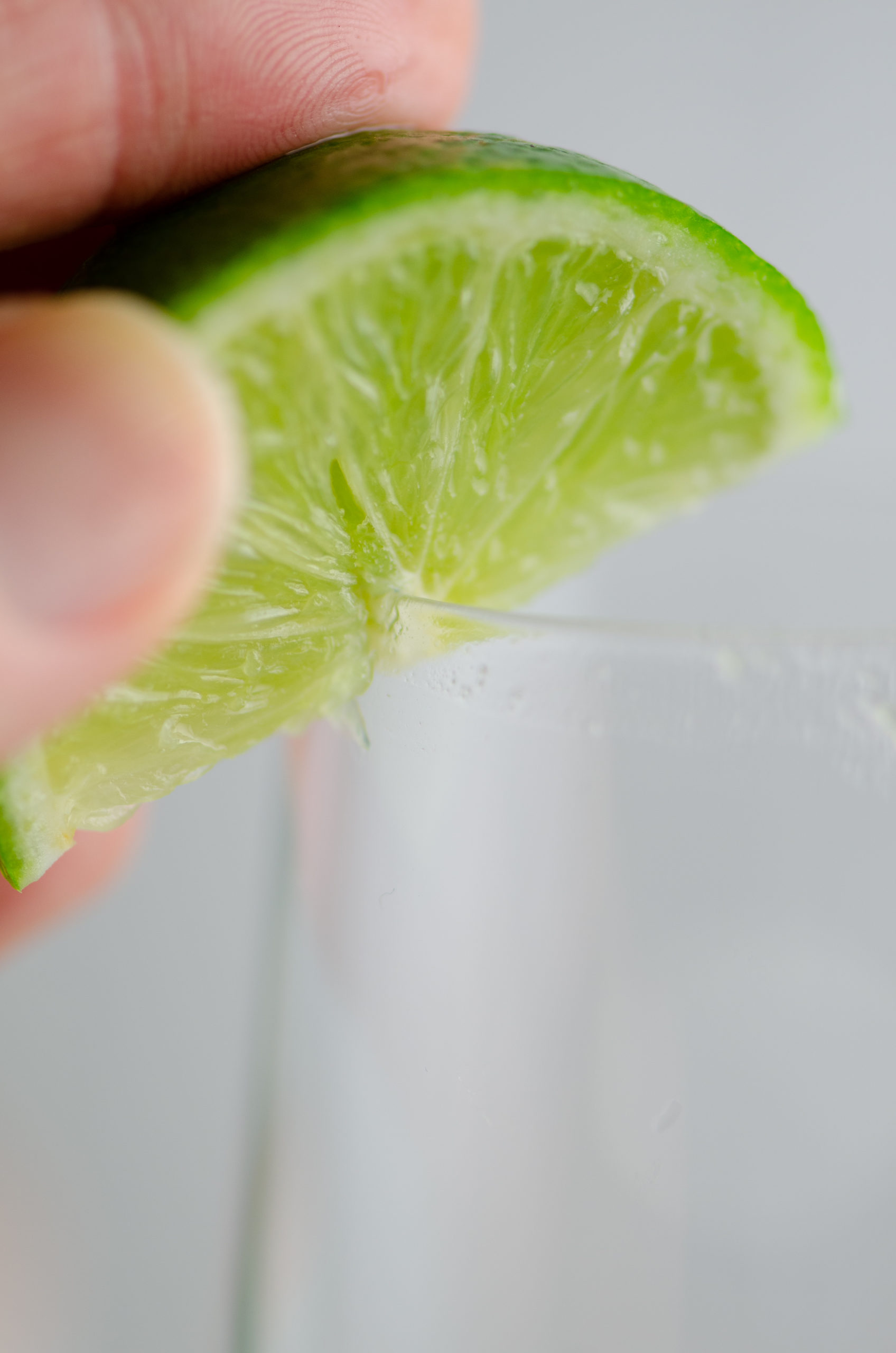 Next, dip the rim of the glass into salt. I like to use a small plate and put a decent amount of salt on it so I can really dip the rim in it.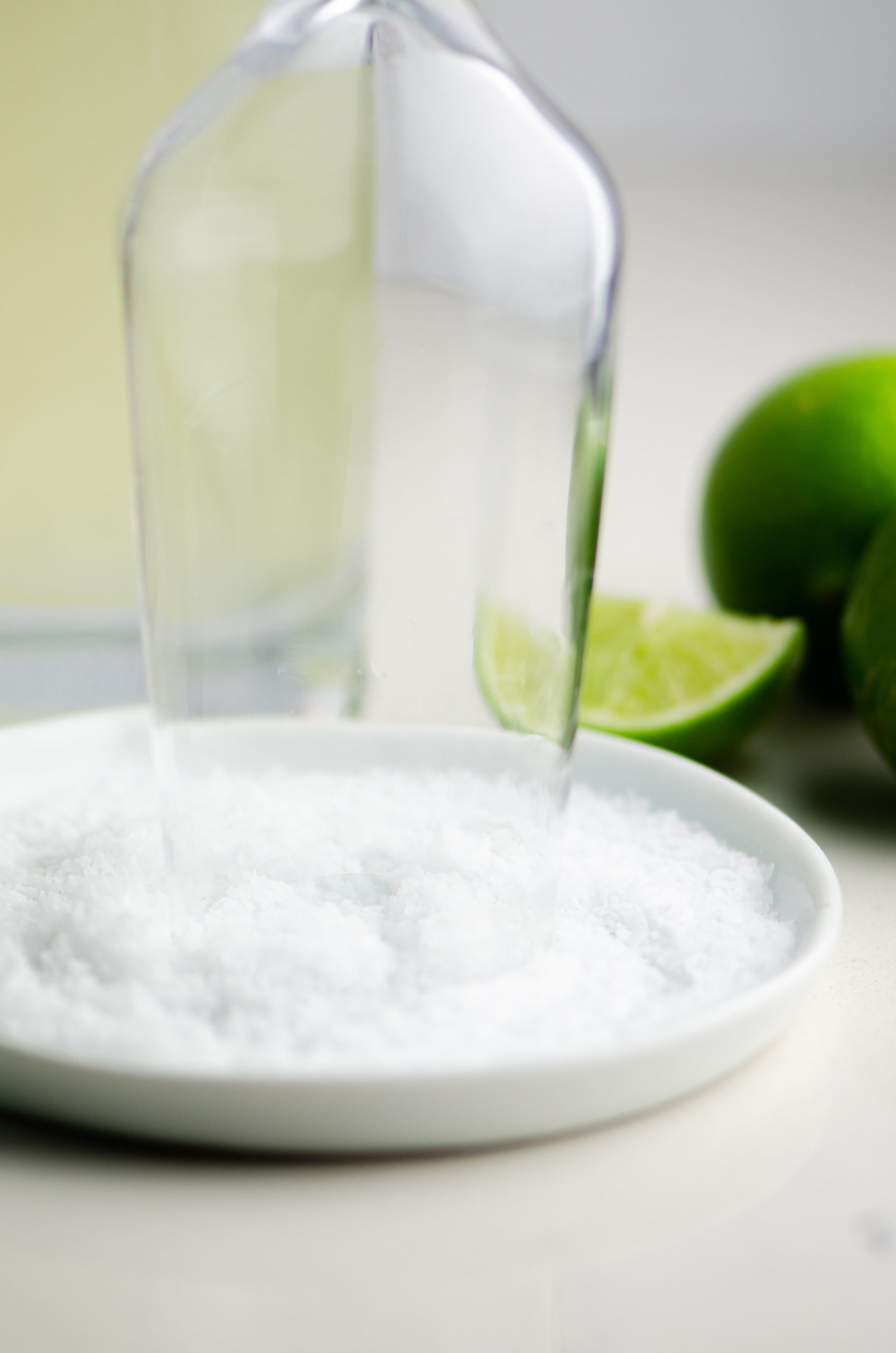 Finally, to make the cocktail, pour all of the ingredients into a pitcher and stir to combine. 
DES TIP: Make sure that the champagne is very well chilled. Since you're not adding ice to this, you want to make sure it's cold .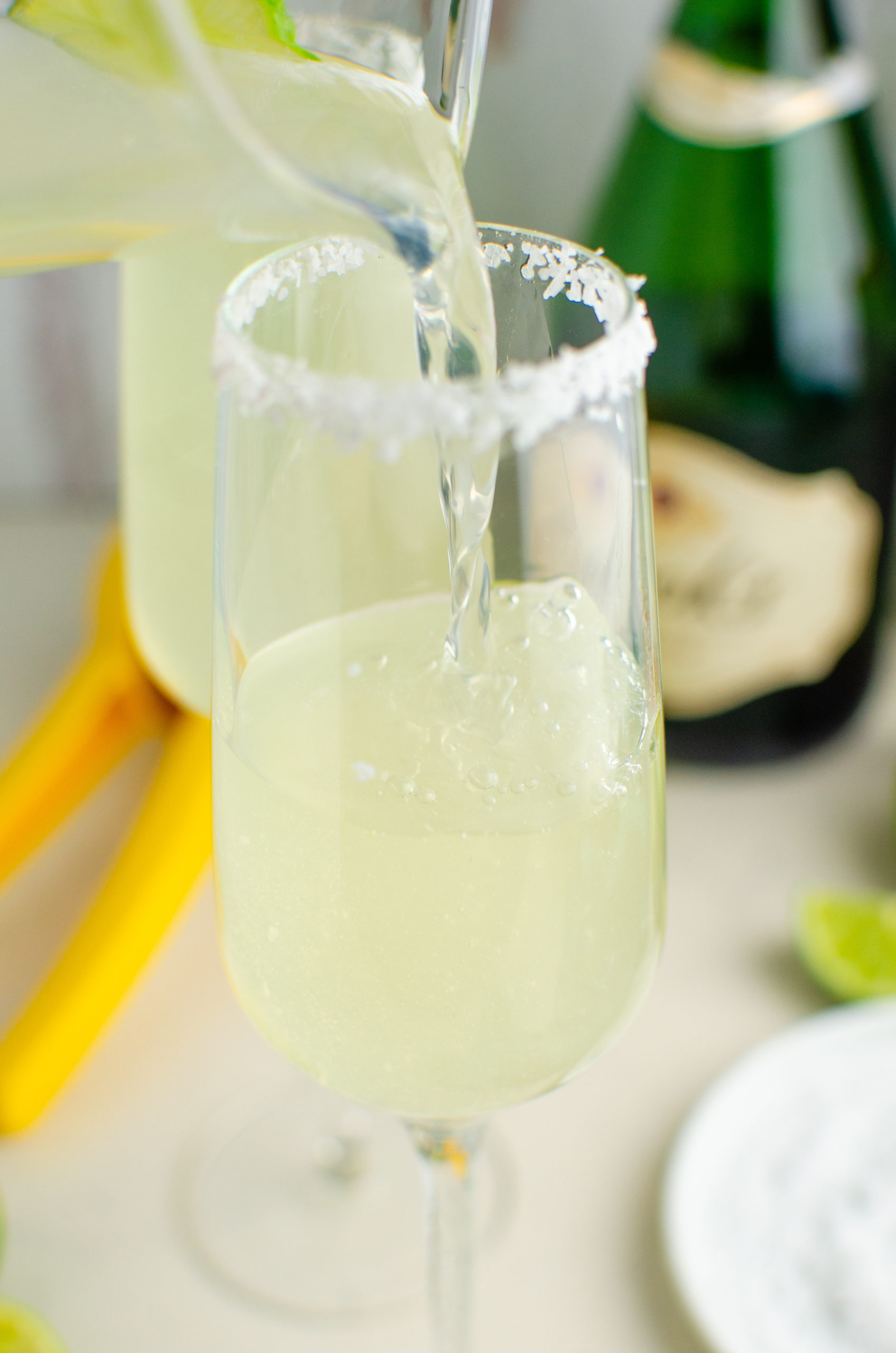 Pour the mixture in your prepared glass, garnish with a lime wheel and voilà, Champagne Margaritas! How easy is that?
Want to make more? This recipe can easily be doubled! 
Looking for more cocktail recipes? Here are some of my favorites! 
Looking for something to serve with this Champagne Margarita?
Shrimp Tacos with Cilantro Sour Cream Sauce
Crispy Fish Tacos with Spicy Slaw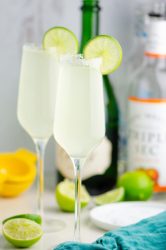 Champagne Margarita
A Champagne Margarita is a festive twist on Margaritas! With champagne, tequila, triple sec and lime juice it is perfect for that New Year's toast.
Ingredients:
1/2

cup

silver tequila

1/4

cup

triple sec

1/4

cup

fresh lime juice

1 1/2

cups

champagne

salt for garnish

lime slices
Run a lime wedge around the rim of a champagne flute. Dip the glass into salt to coat the rim.

In a pitcher, combine lime juice, triple sec, tequila and champagne. Stir to combine. Pour into prepared glasses and serve.
Nutrition facts for estimation purposes only.
Calories:
289
kcal
Carbohydrates:
1.2
g
Sodium:
2340
mg
Sugar:
24
g