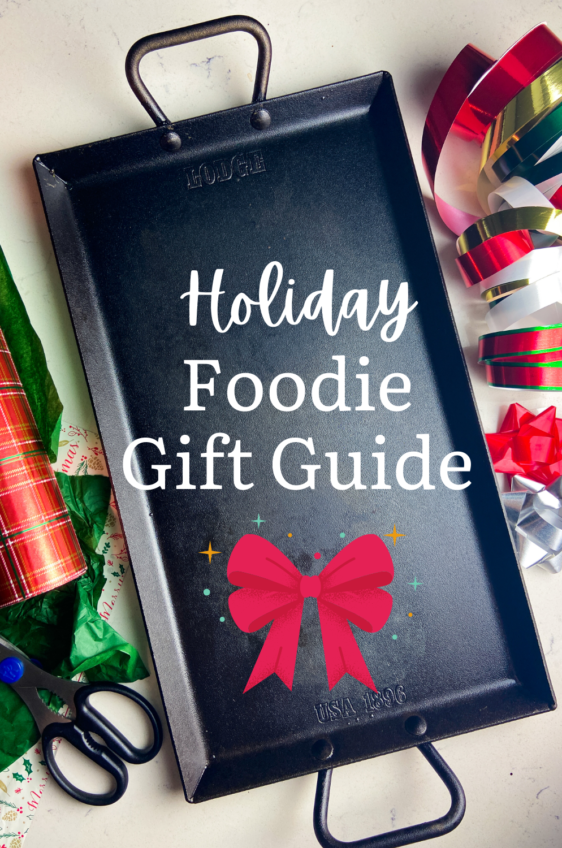 Holiday Foodie Gift Guide
Have a foodie in your life? Or maybe it's you? This 2020 Holiday Foodie Gift guide is sure to have a gift idea for the foodie in your life!
Disclosure: This post contains affiliate links. This post is not sponsored by the products that are mentioned. They are just my favorite things!
As the holidays are rapidly approaching, I thought it was time to put together a guide to some of my favorite foodie things. From small kitchen appliances, to gadgets, seasonings, cookbooks and novels. You are bound to find something on this holiday foodie gift guide to give to the foodie in your life!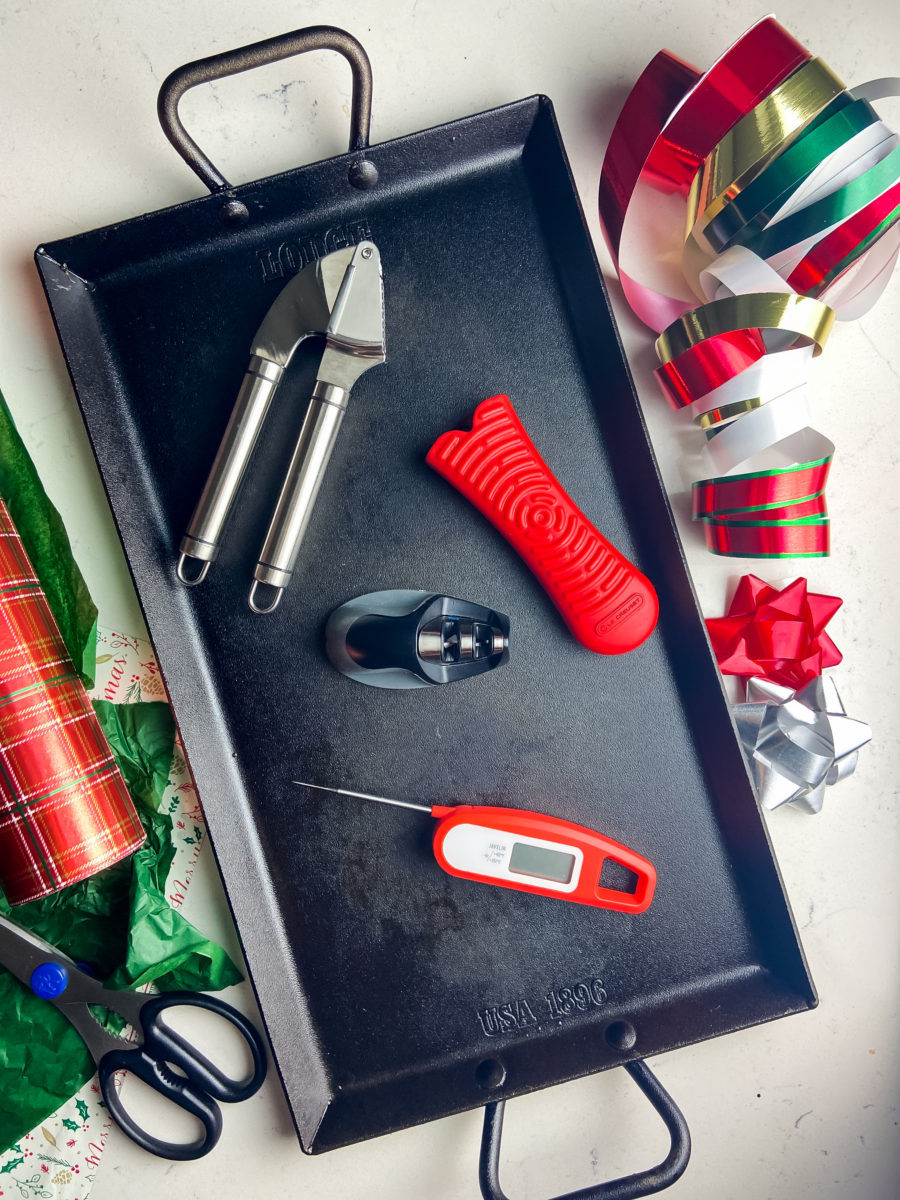 Must have small appliances:
Over the years, I have used a lot of kitchen appliances but very few have become things that I cannot live without. As someone who had a smaller than small kitchen for 10 years, I had to be very picky about what I gave space to. The following appliances won out!
INSTANT POT (affiliate link): This has been out for a few years now and while some of the new fancy gadgets lose their luster over time, not this one. I still use this baby a few times a week. I find it is best for cooking things that I would normally use a slow cooker for. I love to make filipino chicken adobo, chili , chicken stock and macaroni and cheese in it.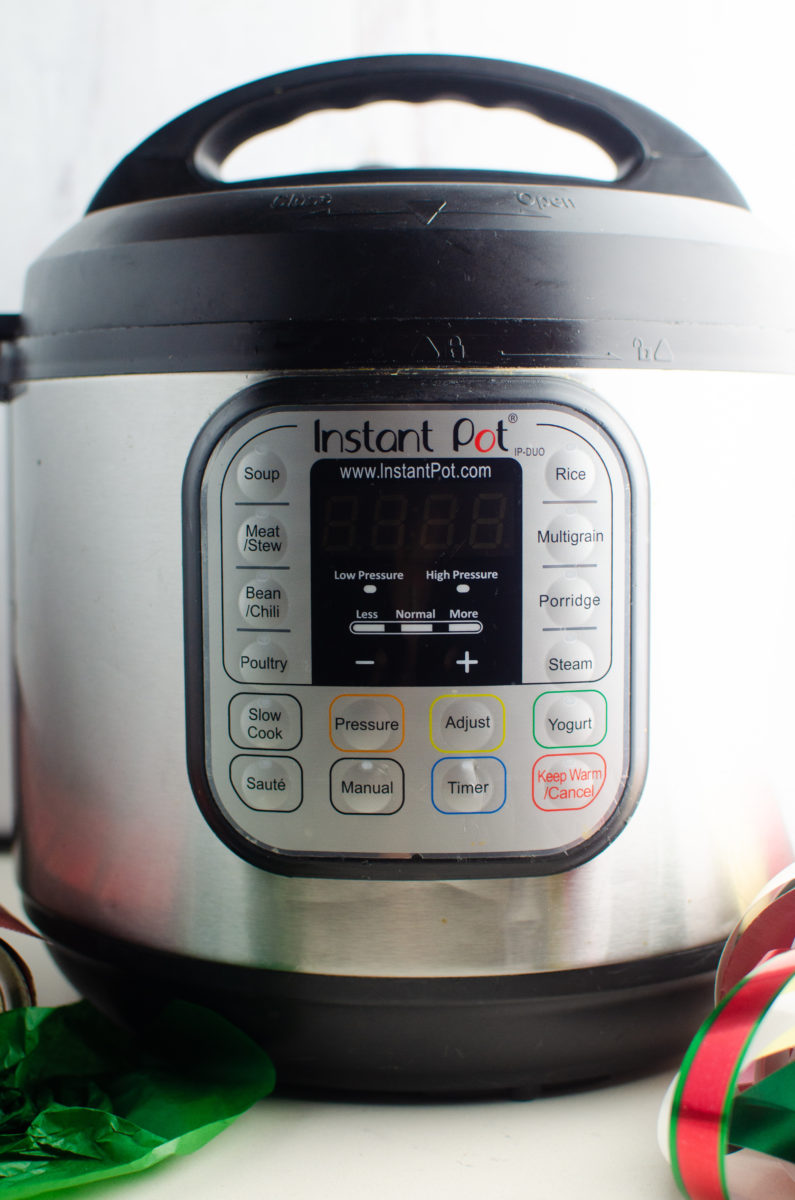 NINJA AIR FRYER (affiliate link): You guys. I got this for my birthday last year and I don't know how I ever lived without it. I use it daily. I will use it to make frozen tater tots and dino nuggets for the kids. It makes fantastic chicken wings, fried mushrooms and cauliflower. Heck! I even made an air fried turkey breast in it and it was fabulous. I have the Ninja Max Air Fryer XL (affiliate link). It is 5.5 QT capacity and is perfect for our family of four.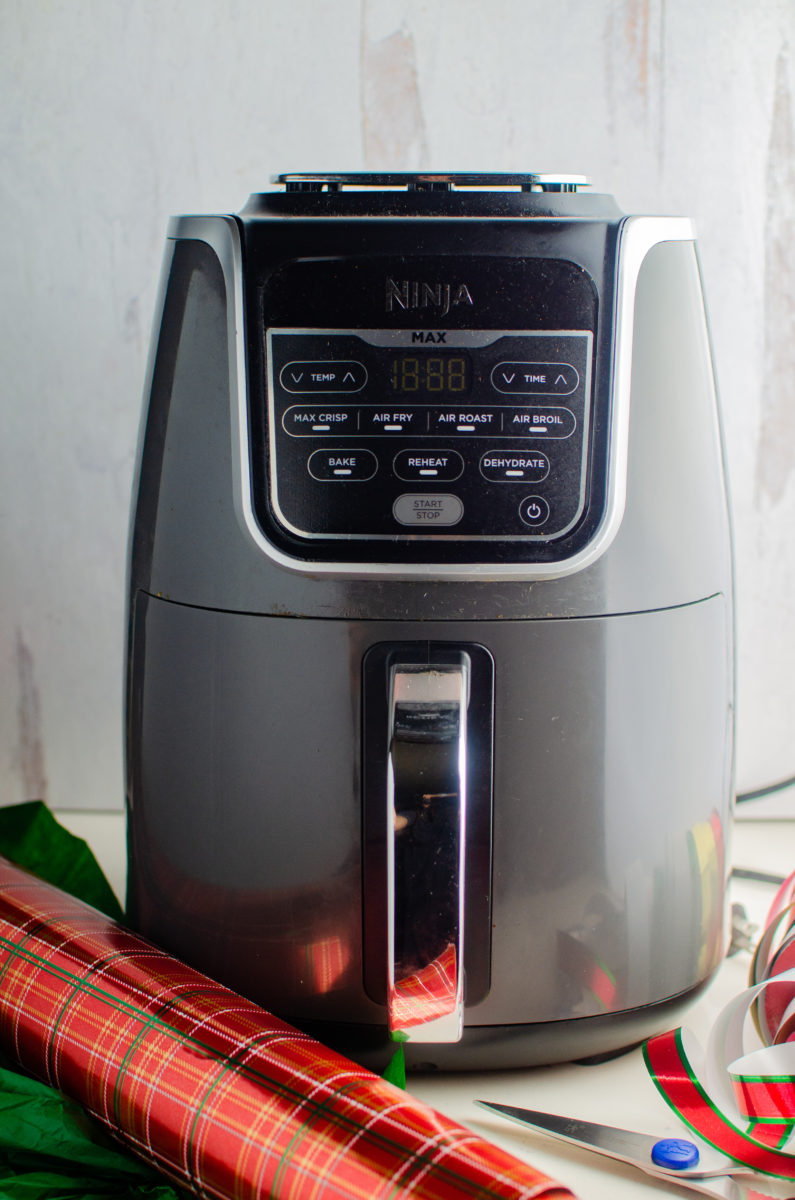 ANOVA SOUS VIDE CIRCULATOR (affiliate link): This is for the chef in your life that might be a bit more adventurous. A traditional sous vide takes up a ton of space and was not something that I felt confident I would use enough that it warranted giving valuable kitchen real estate. But the Anova Sous Vide Circulator is brilliant. It can turn any pot into a sous vide. I use it almost exclusively to make sous vide steak and pork chops. Next plan is to try a go at the sous vide egg bites from Starbucks!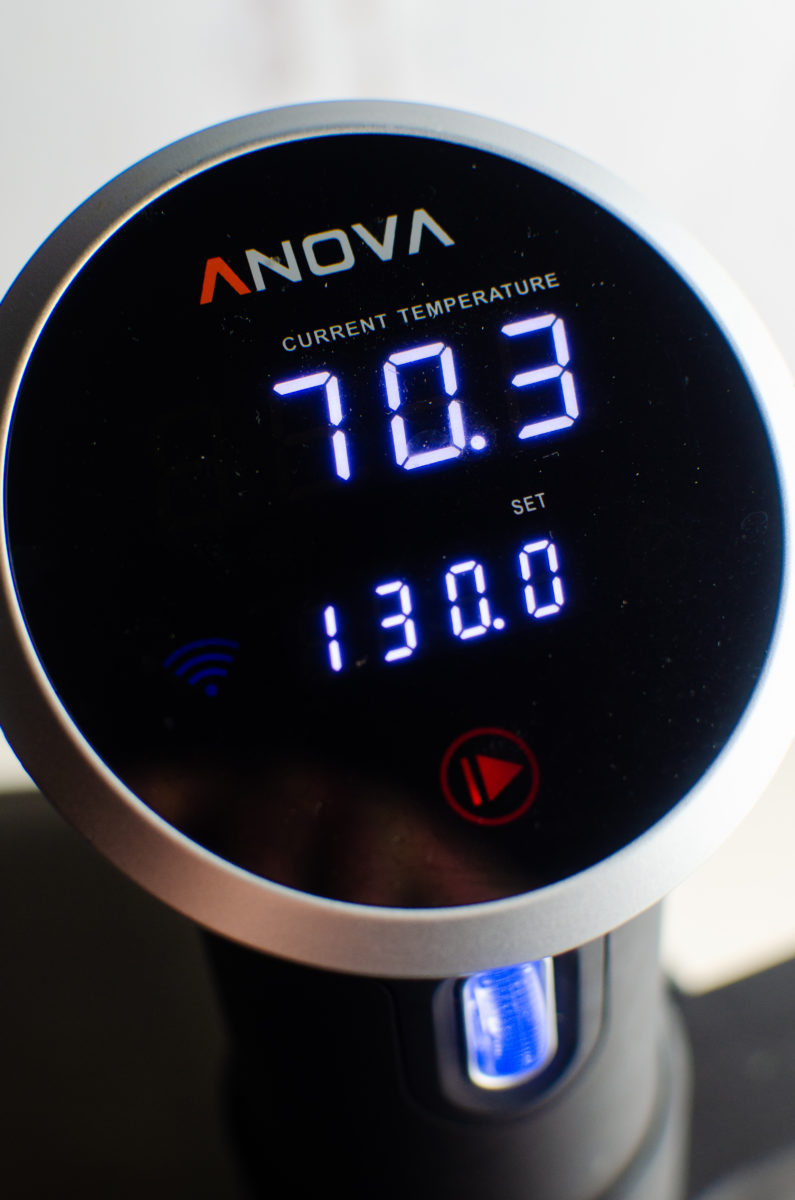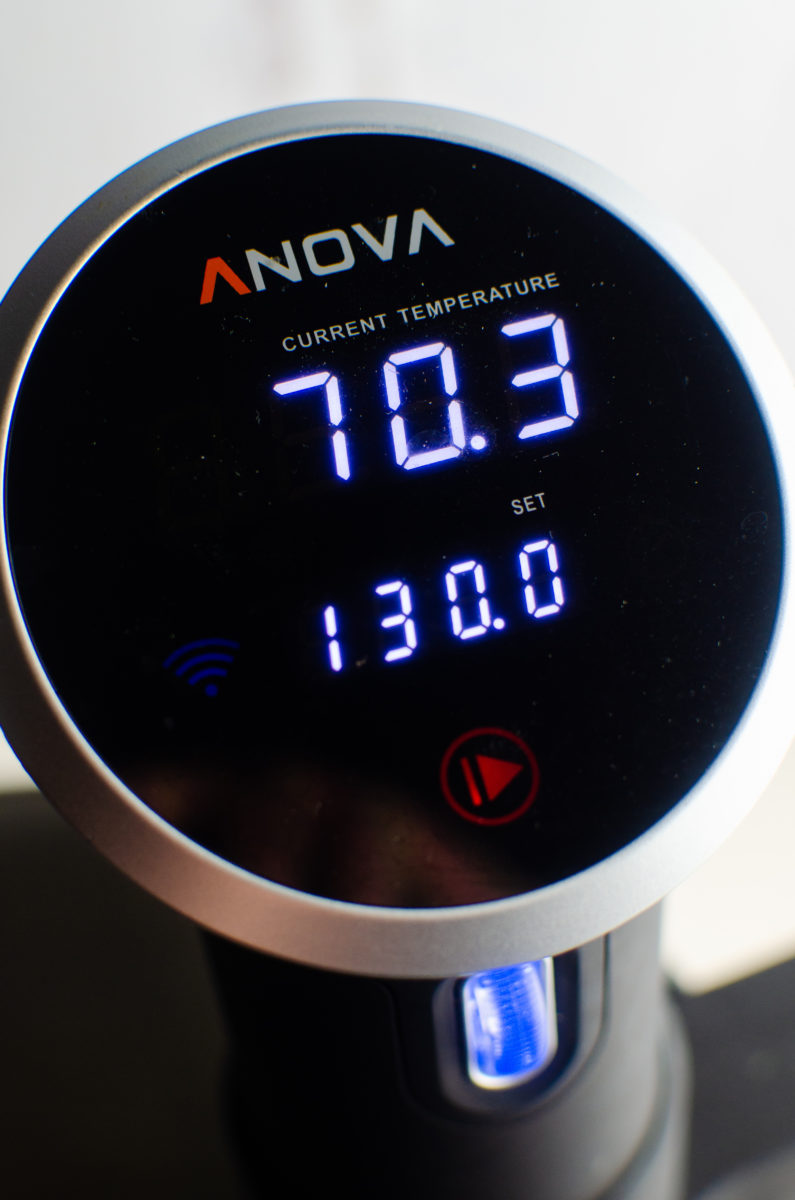 3 CUP KITCHENAID MINI FOOD PROCESSOR (affiliate link): This is a little workhorse in my kitchen. I have a big food 16 cup processor as well but it doesn't get used nearly as much as this. I love to use this to make salsas, dressings and sauces like my super popular habanero hot sauce. It is also perfect for making graham cracker or oreo crumbs for your desserts! Another plus, this little guy is much easier to clean than it's big counterpart.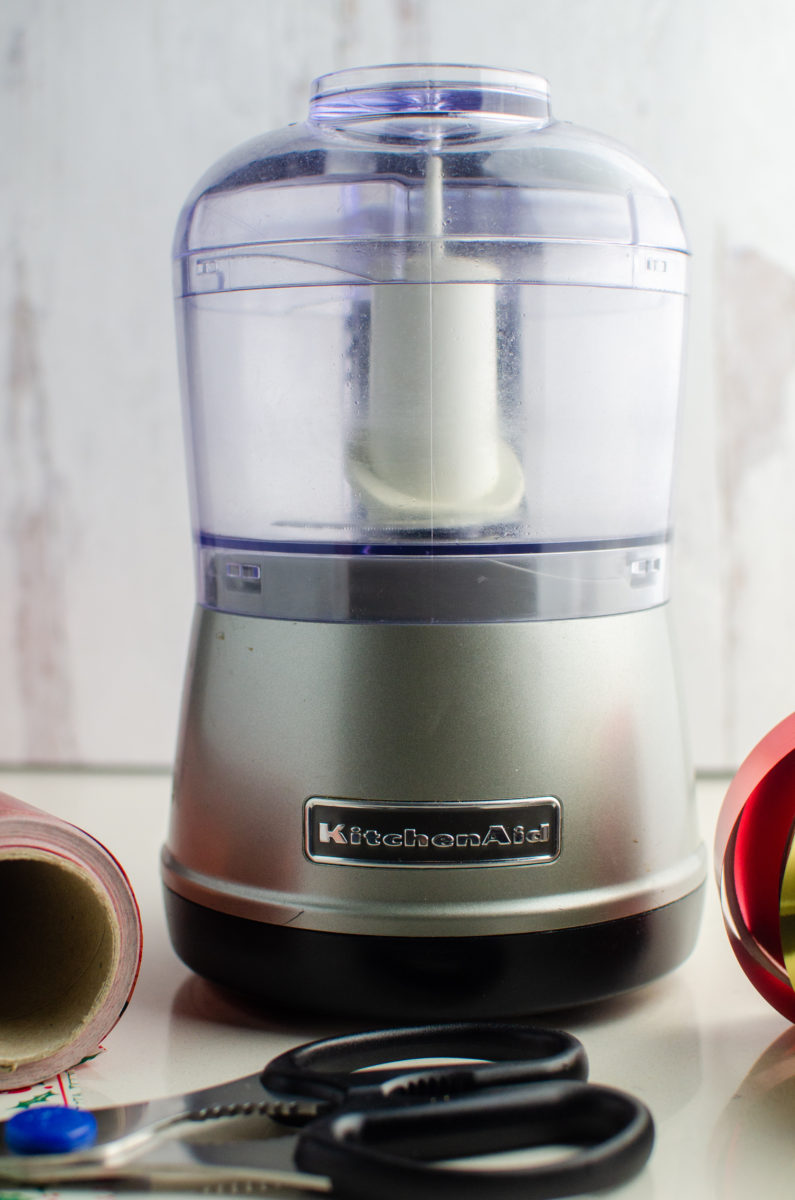 You don't have to spend a ton of money on pots and pans. I have had a couple sets over the years and some of the "more expensive" brands and I always come back to my Lodge Cast Iron Skillets. I have both a 12 inch and a 10 inch skillet. I use the 12 inch most of the time for pretty much everything. I make my brined fried chicken in it, sauté veggies, cook eggs. You name it, chances are I cooked it in there. The 10 – inch skillet is great for quesadillas, grilled cheese and my personal favorite, skillet cookies like this Gingersnap Skillet Cookie.
The handles do get hot so I love my Le Creuset Cool Tool Handle Sleeve (affiliate).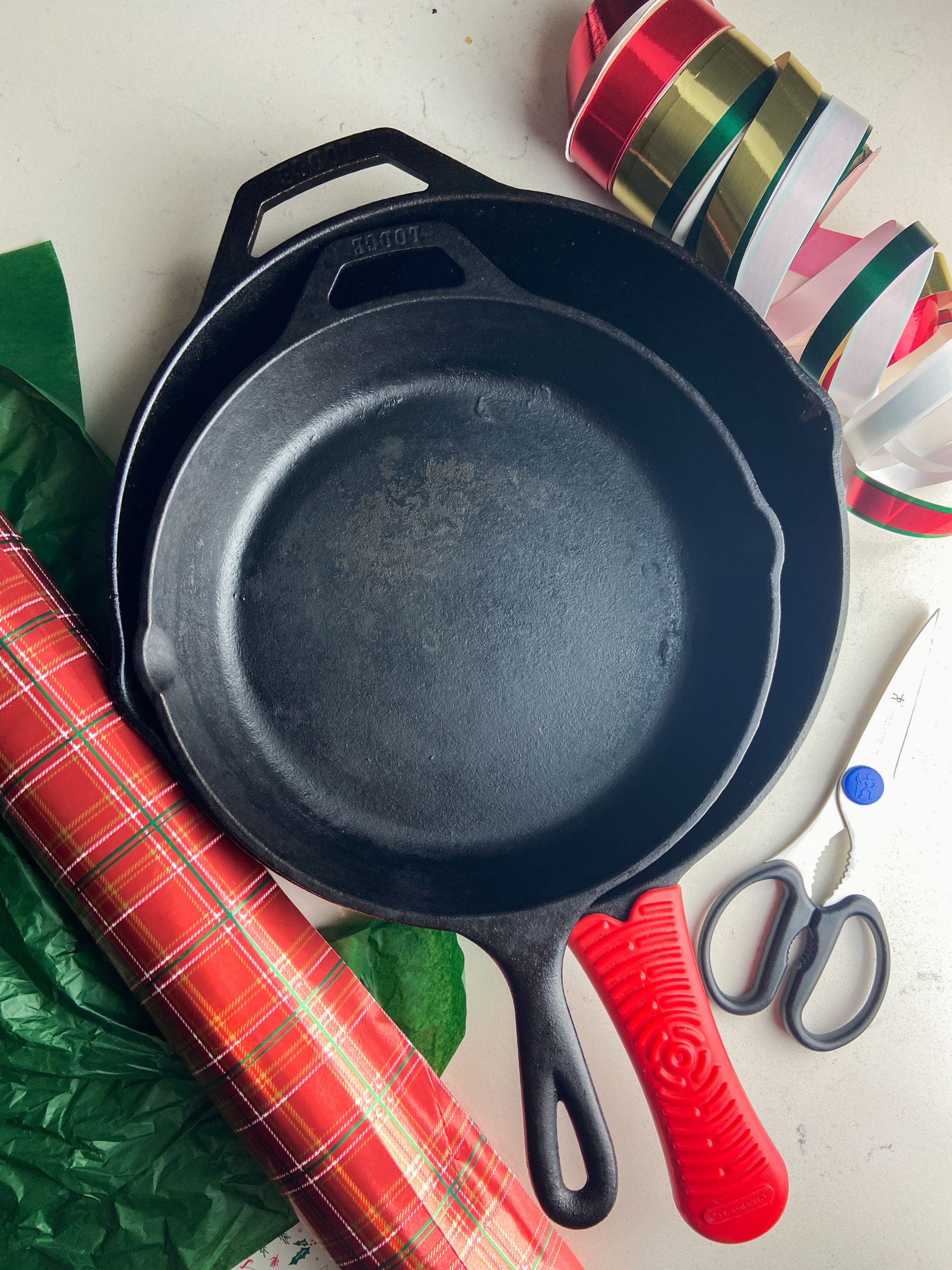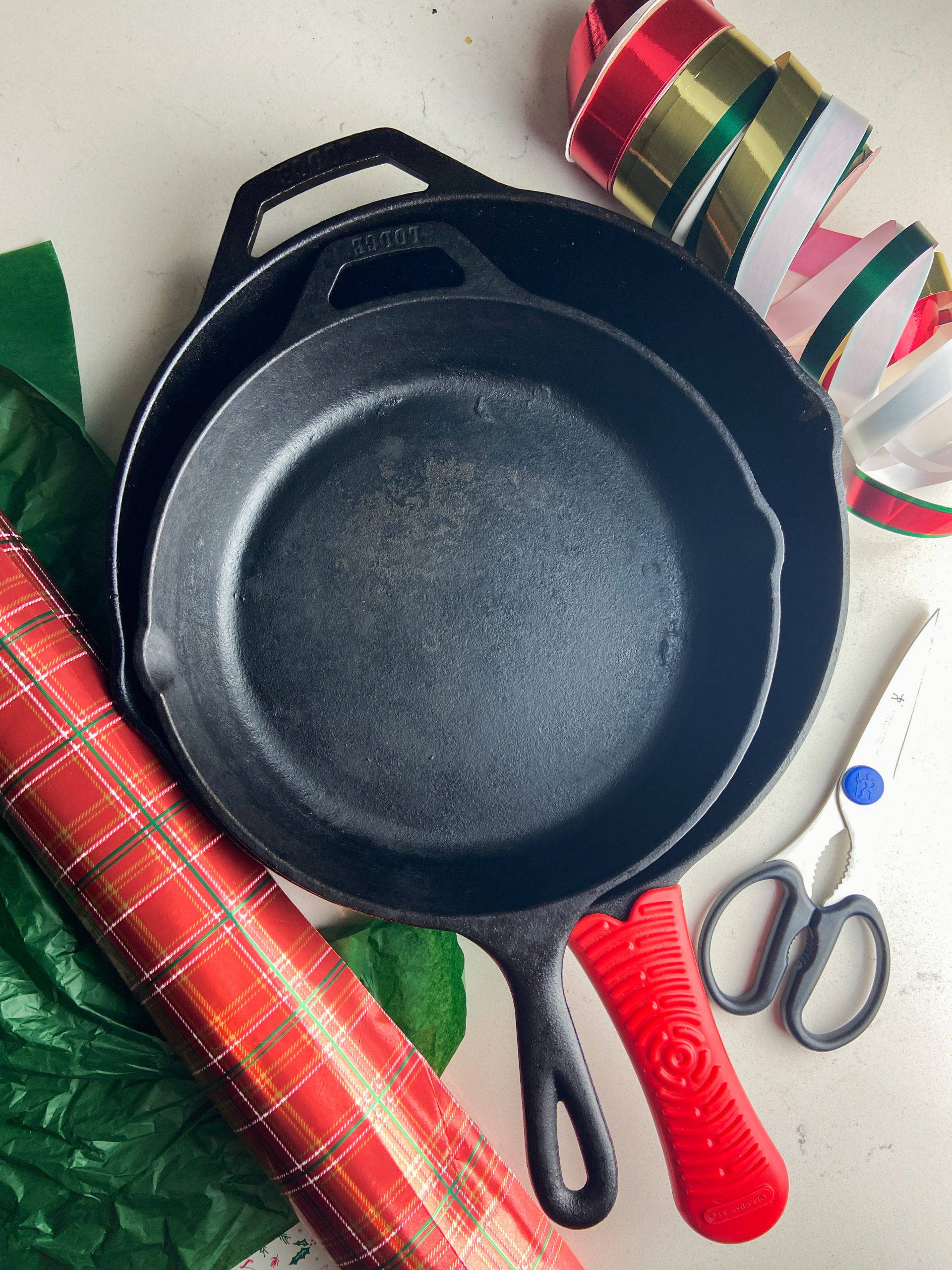 If you are looking for a griddle that you can use on your electric, gas or for outdoor cooking this Lodge Carbon Steel Griddle (affiliate) is my newest kitchen addition and I love it! It gives you more space to work with than a regular skillet. It's perfect for those big weekend breakfasts!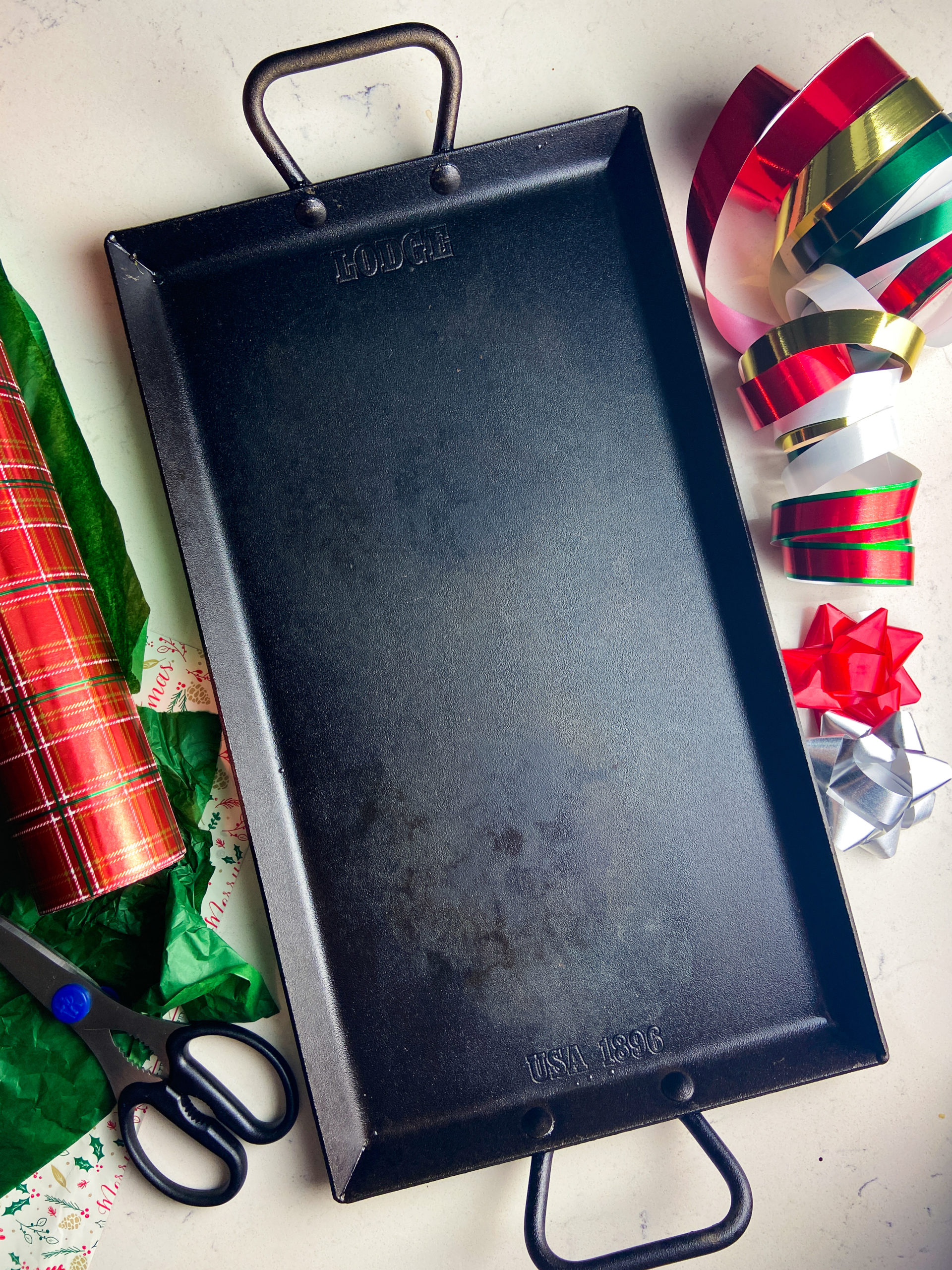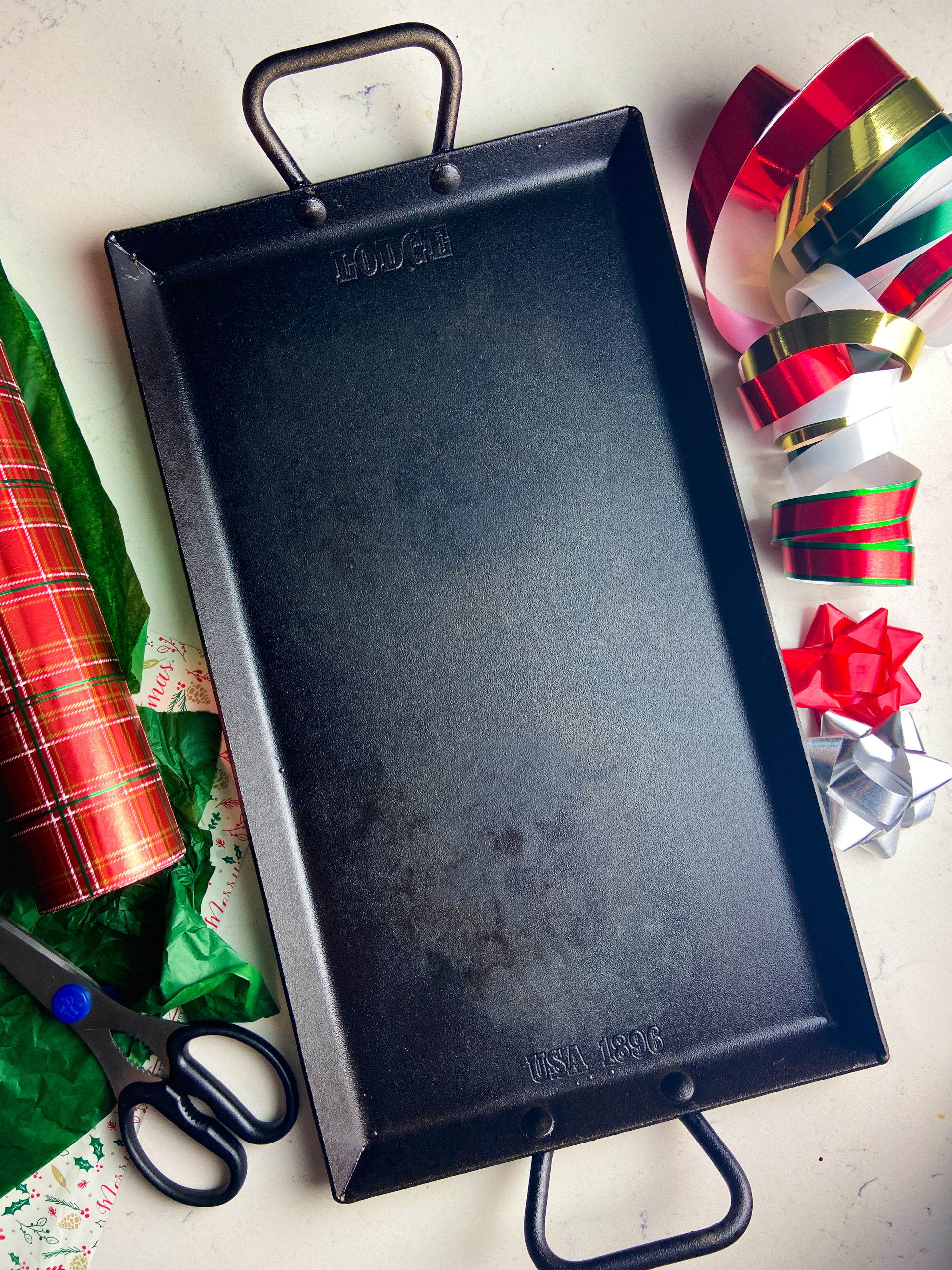 Foodie Stocking Stuffer Ideas: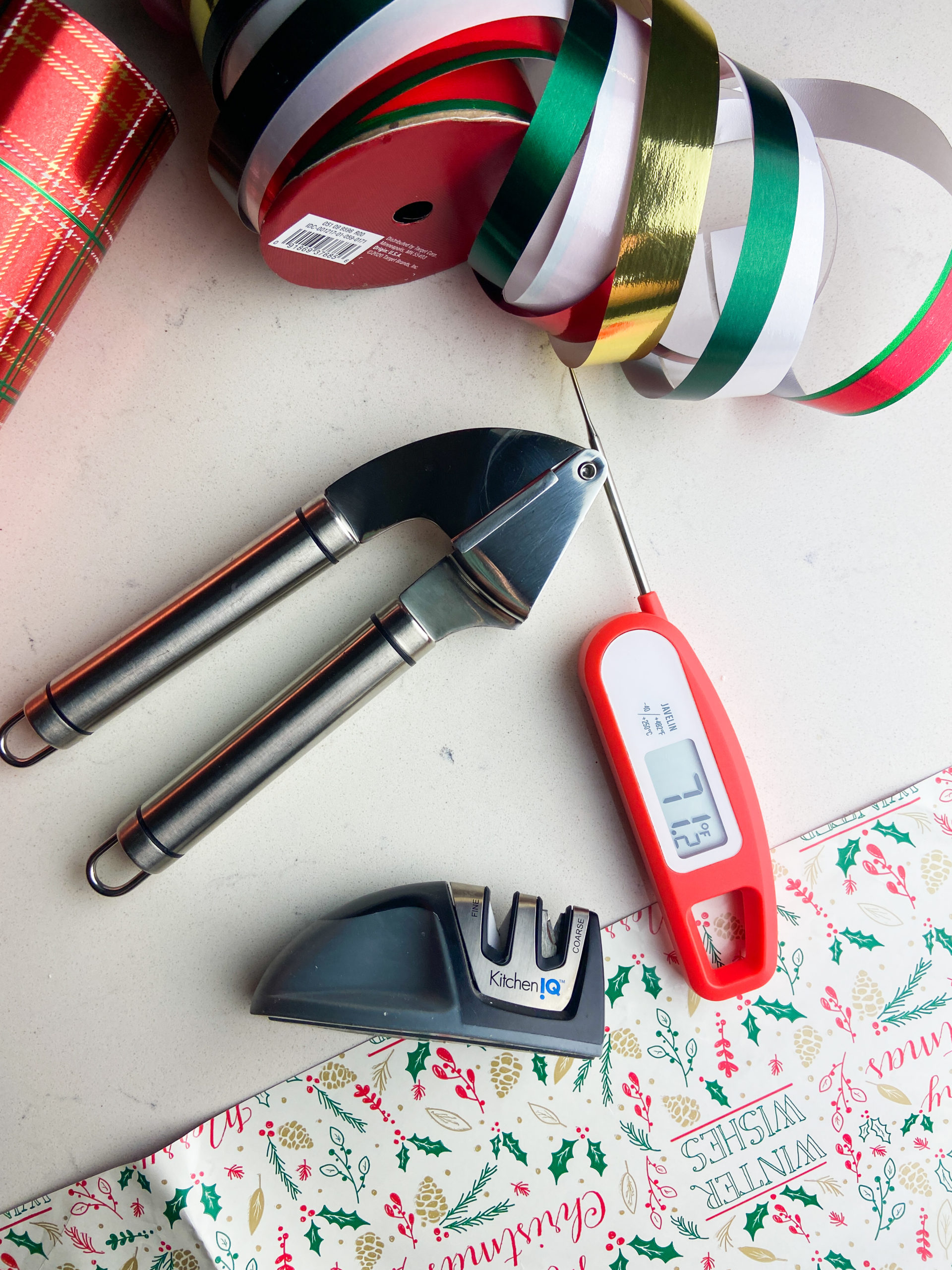 KITCHEN IQ KNIFE SHARPENER (affiliate): You guys, this little thing works great! It's small enough to fit in my utensils drawer and works great for sharpening my knives. It's also easy on the pocket book!
JAVELIN INSTANT READ MEAT THERMOMETER (affiliate): A good meat thermometer is a must in my opinion. This digital instant read works fabulously.
GARLIC PRESS (affiliate): I didn't actually have one of these until last year but now I absolutely swear by it! It is especially great to have to add fresh garlic to dressings so you don't have large pieces.
SALT CELLAR AND PEPPER MILL: I love being able to add a pinch of salt whenever I need to. Storing my salt in a salt cellar, rather than a shaker makes that (and measuring) easier! And guys, fresh cracked pepper is WAY better than pre-ground stuff. Trust me.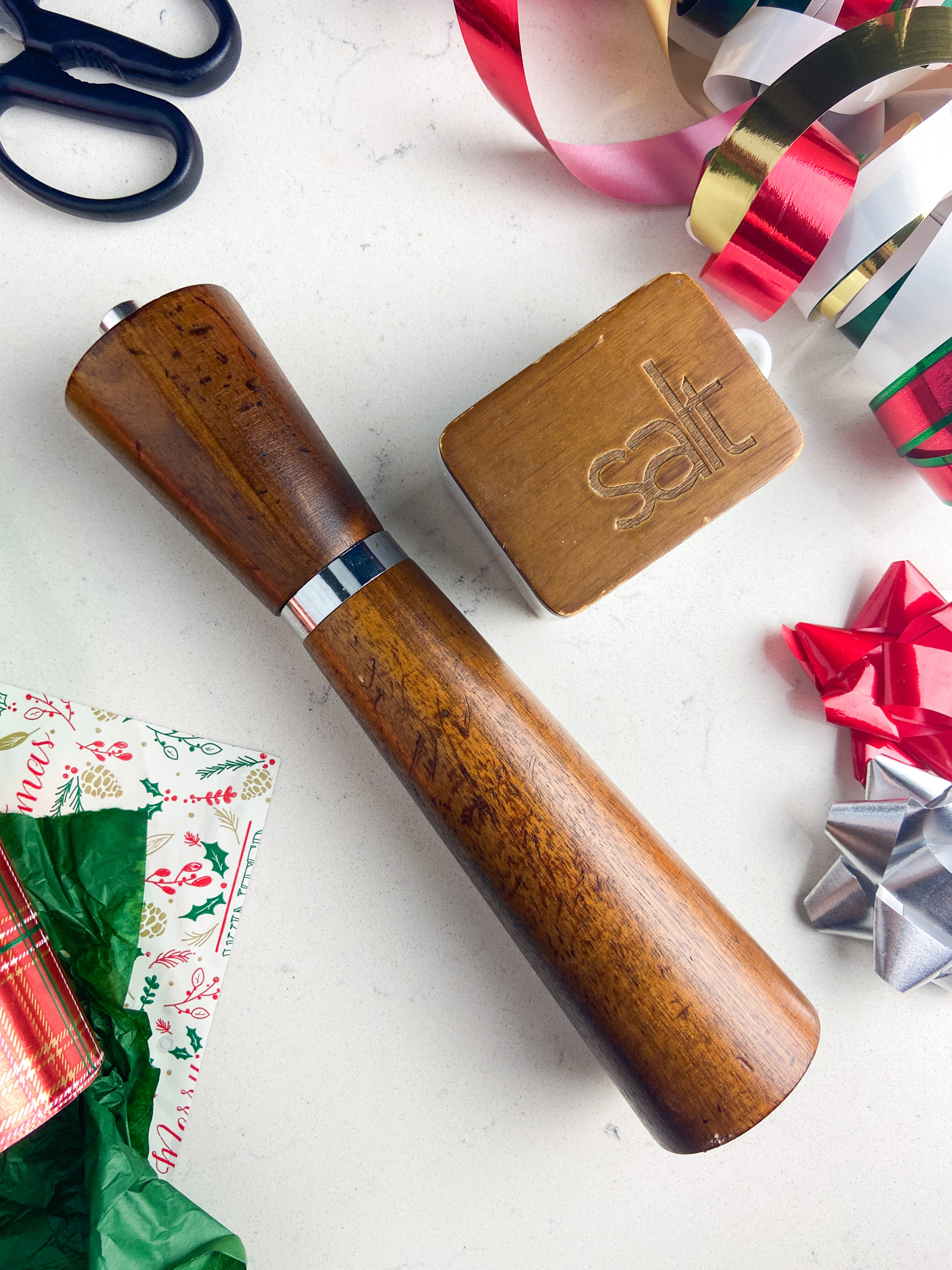 MALDON SEA SALT: The absolute best finishing salt! A little sprinkle on freshly grilled steak, fries right out of the fryer or fresh summer tomatoes is simply divine.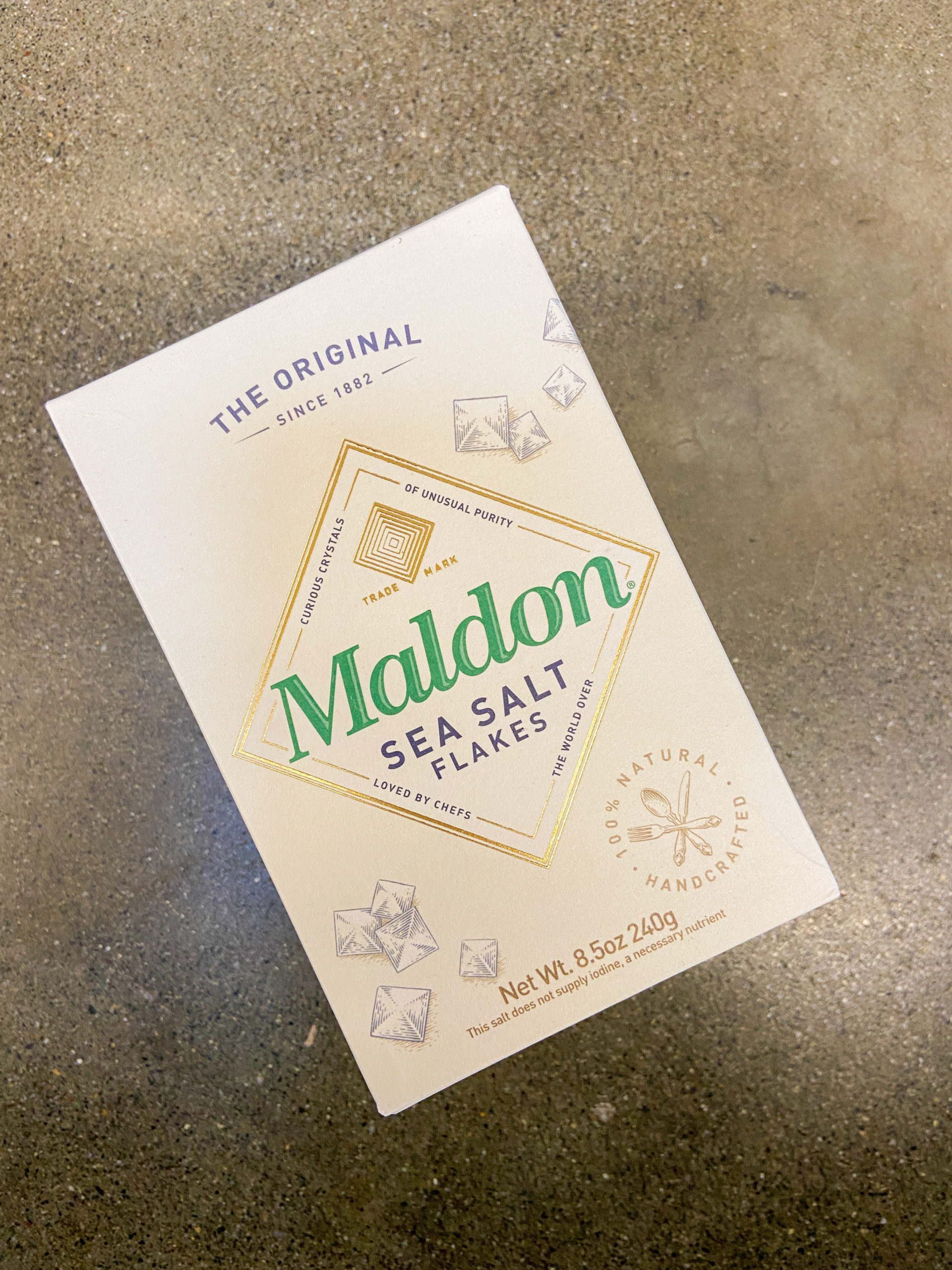 TAKII UMAMI POWDER: I discovered this months ago and it has since become one of my favorite kitchen seasonings. It's made from shiitake mushrooms and helps add the deep rich "umami" flavor to whatever you sprinkle it on. I've put it on steaks, salads, sautéed veggies. You name it. I put this stuff on ALL THE THINGS.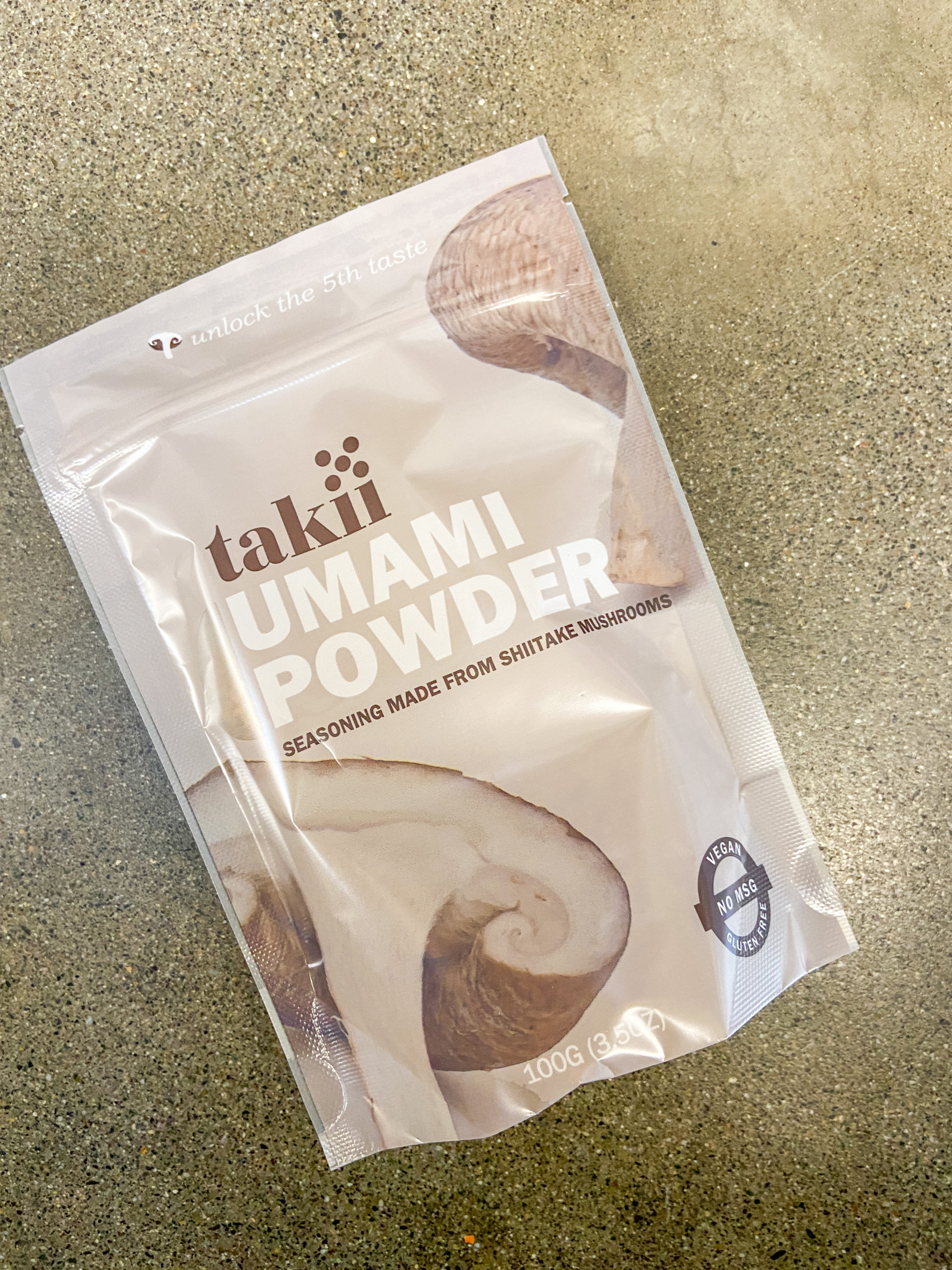 MUST HAVE BOOKS FOR FOODIES: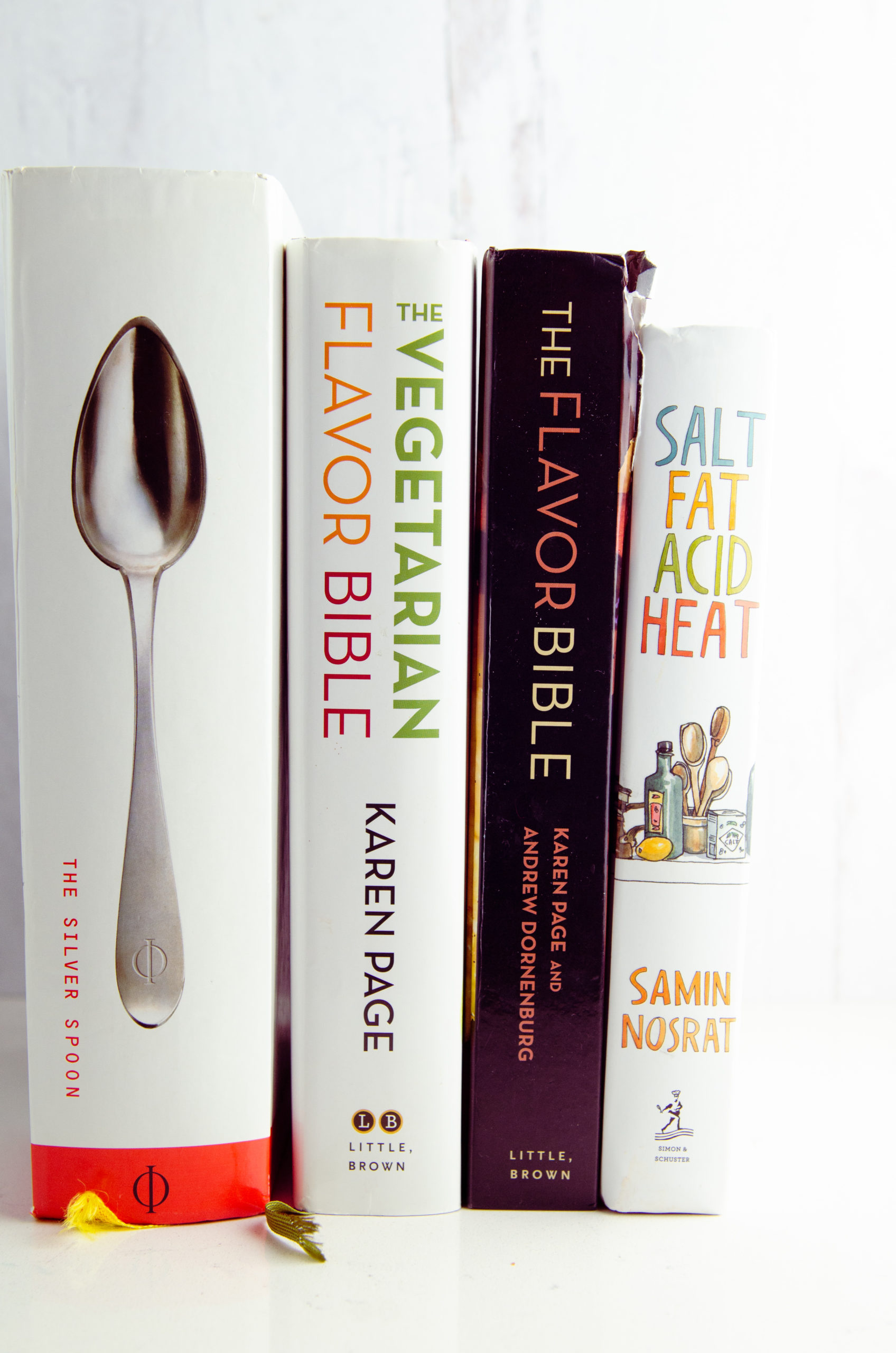 THE FLAVOR BIBLE/THE VEGETARIAN FLAVOR BIBLE by Karen Page and Andrew Dornenburg : If you have a foodie in your life that likes to make up their own recipes then these books are indispensable. Simply look up an ingredient you want to use and it will tell you other ingredients that go with it. It's perfect for making your own recipes with what you have on hand! I use the original flavor bible much more than the vegetarian one but if you've got a vegetarian foodie in your life, that one is a must!
THE SLIVER SPOON: Ryan and I honeymooned in Italy and it will always have a special place in our hearts. That is why I adore this cookbook. It is a no-frills cookbook full of classic, authentic Italian recipes.
SALT, FAT, ACID, HEAT by Samin Nostrat: Maybe you've seen the Netflix special, or maybe you just really want to learn more about the four main elements of cooking. Either way this is a great book. I read this cookbook like a novel. It's full of fabulous info and recipes!
Speaking of novels, I love all things food and that includes reading novels and memoirs that are about, you guessed it, food.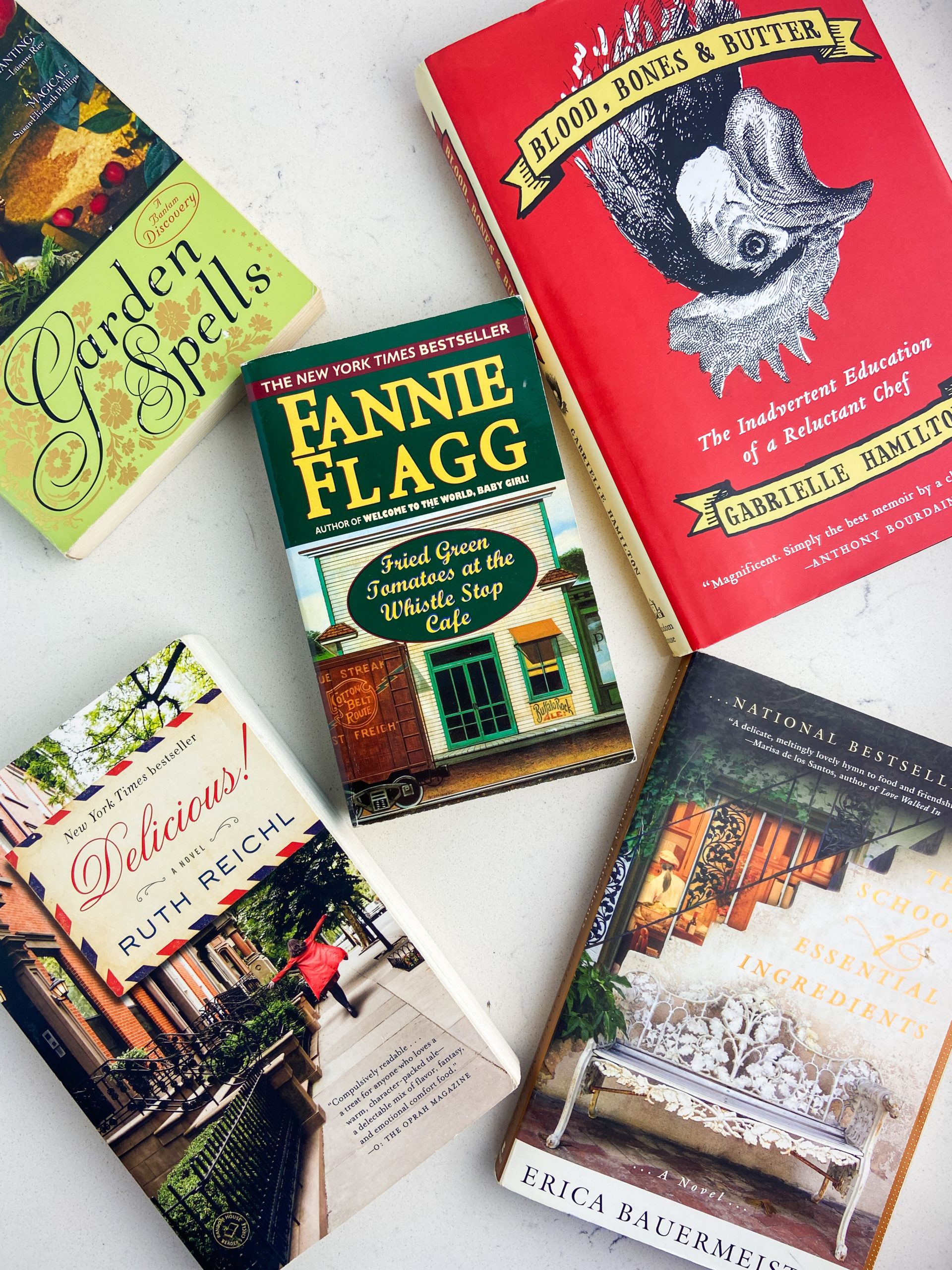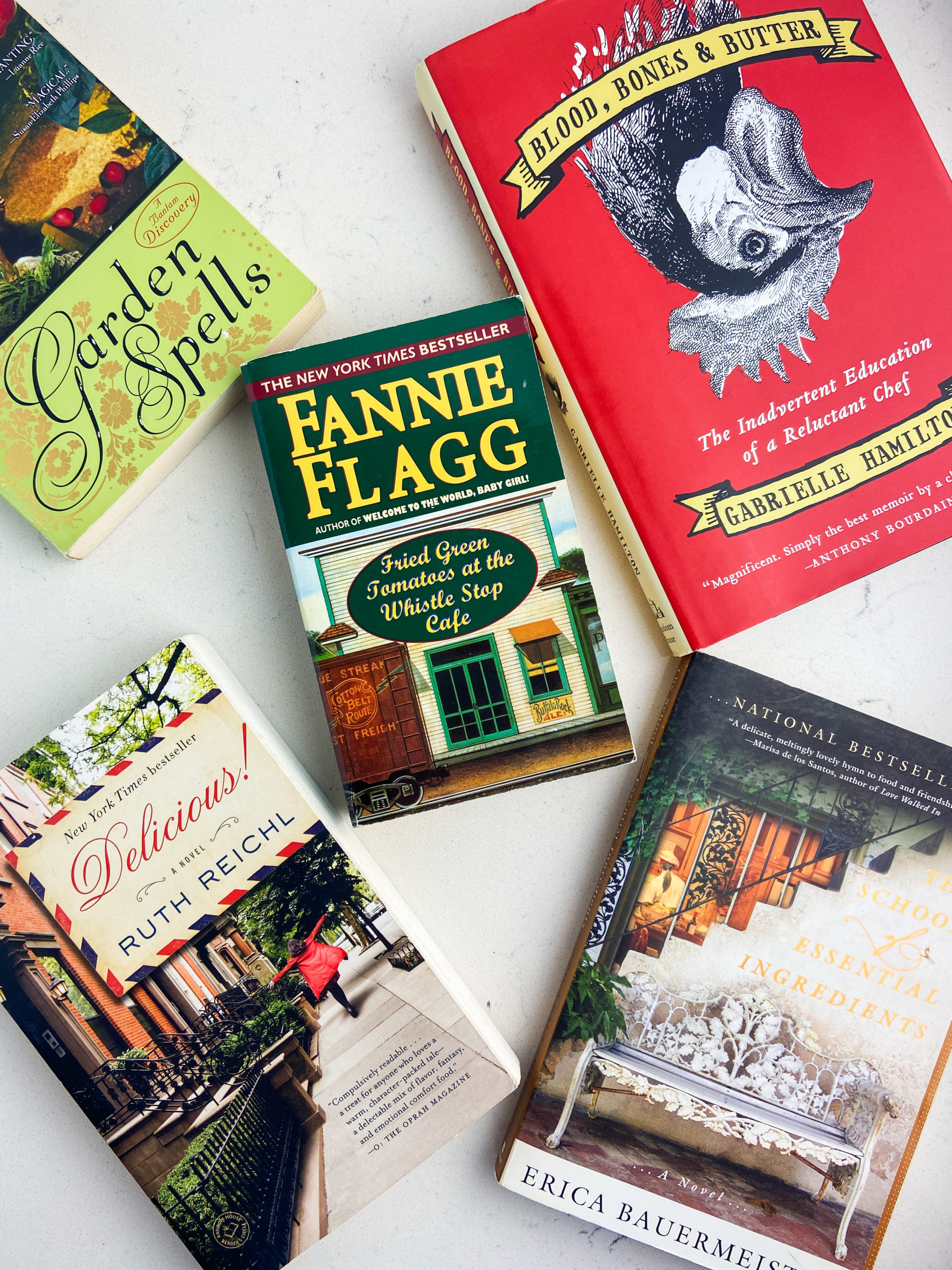 FRIED GREEN TOMATOES AT THE WHISTLE STOP CAFE by Fannie Flagg: This is the book (and movie) that started it all for me. It's the story of Idgie and Ruth and their cafe in Whistle Stop, Alabama in the 1930s. Some of it is heavy but it also has its light and funny parts. PLUS there are recipes in the back which, I mean, amazing.
GARDEN SPELLS by Sarah Addison Allen: A magical realism story that completely enchanted me! It is about the Waverly Family who happen to have an enchanted apple tree in their backyard. It is absolutely charming!
THE SCHOOL OF ESSENTIAL INGREDIENTS by Erica Bauermeister: This beautifully written story follows 8 students who take a cooking class together. It's all about how food is such an important aspect in our lives and the descriptions will leave you hungry!
DELICIOUS! By Ruth Reichl: This was a quick and fun read. It is about a woman who goes to work for a major food magazine, Delicious!, and when it shuts down she stays behind in the old mansion to manage the Delicious! guarantee which was a hotline for complaints and questions. During her work she finds a secret library which houses letters written to James Beard during World War II. These letters send her on a fun quest to find out more about the child who wrote them.
BLOOD, BONES AND BUTTER by Gabrielle Hamilton: I don't usually reach for memoirs but this one grabbed me and didn't let go. It follows the life of Gabrielle Hamilton and the many kitchens she cooked in throughout her life ultimately cooking in the kitchen of her own restaurant, Prune. And if I ever get to New York once the lockdown is over, I'm going to make sure I visit!
There you have it! Some of my absolute favorite things for all things food. Did you find something for the foodie on your list? Need more suggestions? Just let me know!