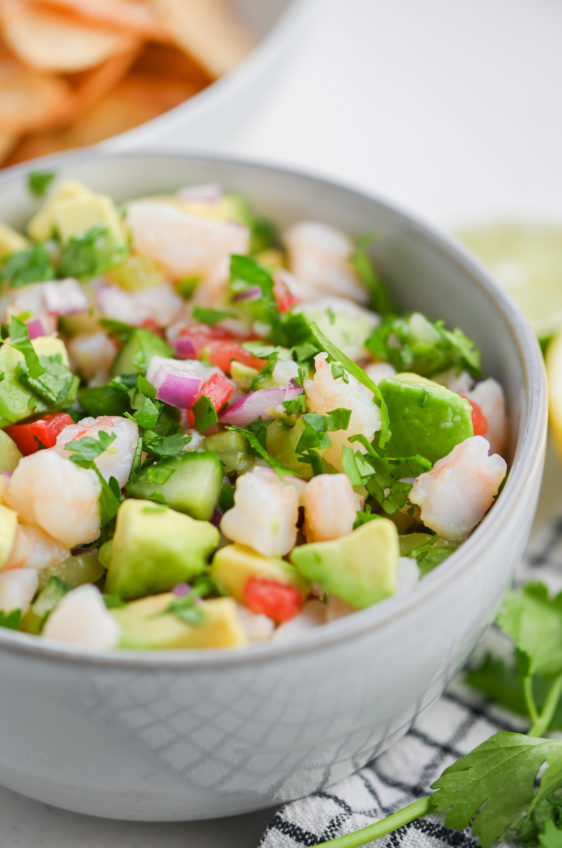 Shrimp Ceviche Recipe
Jump to Recipe
This Shrimp Ceviche recipe is light, fresh and full of flavor. Poached shrimp marinated with cucumber, avocado, tomatoes, onion, lemon and lime.
If you are looking for party pleasing appetizer to serve along side some Watermelon Margaritas at your next Taco Tuesday party, look no further than this Easy Shrimp Ceviche Recipe. It is absolutely loaded with flavor. And it is great for a crowd.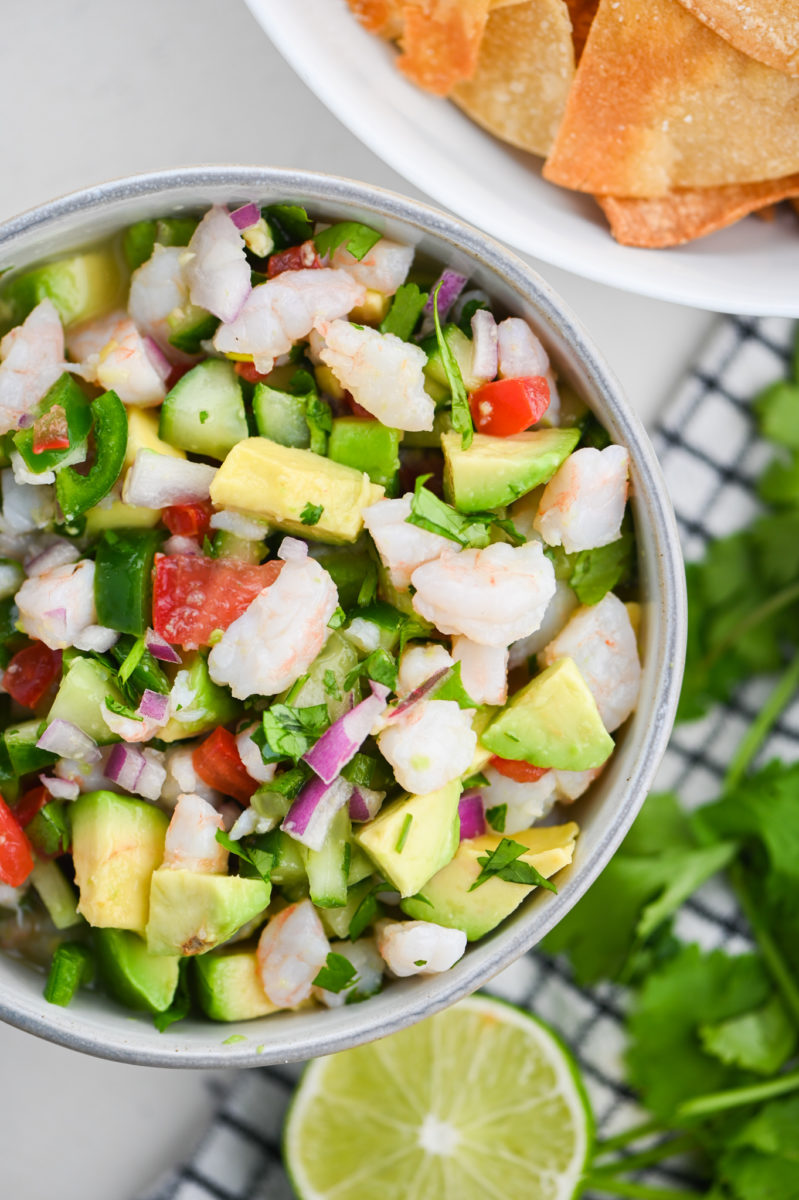 I have been a fan of ceviche for several years now after first trying it at a local Mexican restaurant and then started experimenting at home with Crab Ceviche. It is so light, so fresh and so full of flavor. To me it is the perfect summer appetizer. Just hand me a bowl of ceviche, some homemade tortilla chips and I'll be your BFF forever.
While traditional ceviche is made with raw fish, this Shrimp Ceviche recipe calls for a quick poach of the shrimp first. This makes it perfect for those who are a little squeamish about eating lightly cooked seafood. And if you're pregnant, this is also a great alternative because you don't have to worry about whether or not the shrimp is fully cooked.
What ingredients do you need?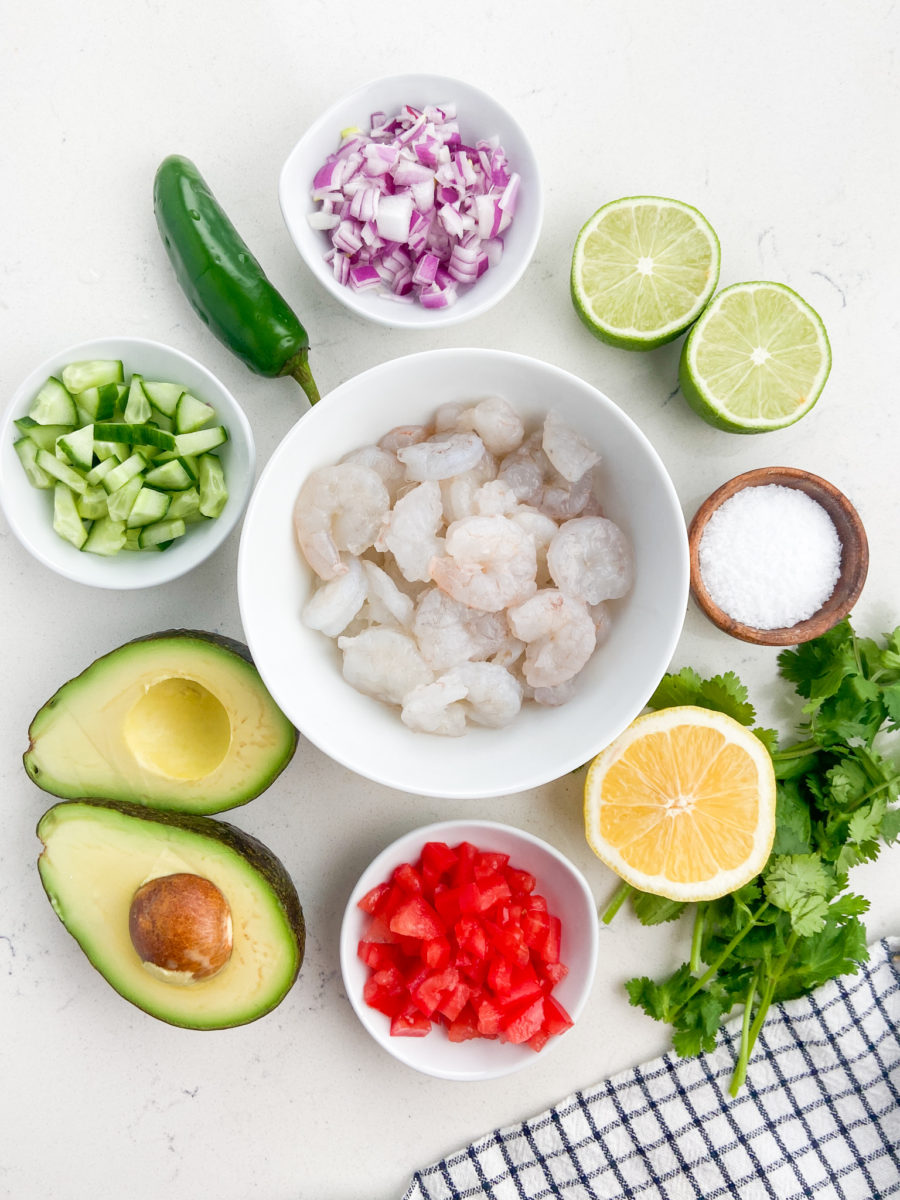 One of the great things about ceviche is that there aren't too many ingredients. This dish doesn't get its amazing flavor from an assortment of seasonings. Instead, the ingredients marinate together and make little flavor babies that are out of this world good.
SHRIMP: Because you are poaching the shrimp, this recipe calls for raw shrimp. You can use pre-cooked shrimp if you like. Use medium to large sized shrimp. Save the small bay shrimp for salads.
TOMATOES: Roma tomatoes work great here.
RED ONION: Since this is a mostly raw dish, Make sure that it is minced small so that there are no large bites of onion.
CUCUMBER: This adds a great crunch to the dish.
AVOCADO: Adds a touch of creaminess.
JALAPEÑO: For spice. If you want to make it less spicy be sure to remove the ribs and the seeds from the jalapeño before adding it.
CILANTRO: Adds a bright, citrusy flavor to the ceviche.
LEMON AND LIME JUICE: This is what is going to give this shrimp ceviche, the classic ceviche flavor. I like to use a combo of both.
SALT: Added, if desired, after marinating.
How do you make Shrimp Ceviche?
This really couldn't be any easier to make friends. The hardest part is poaching the shrimp, but even that doesn't really take all that much effort.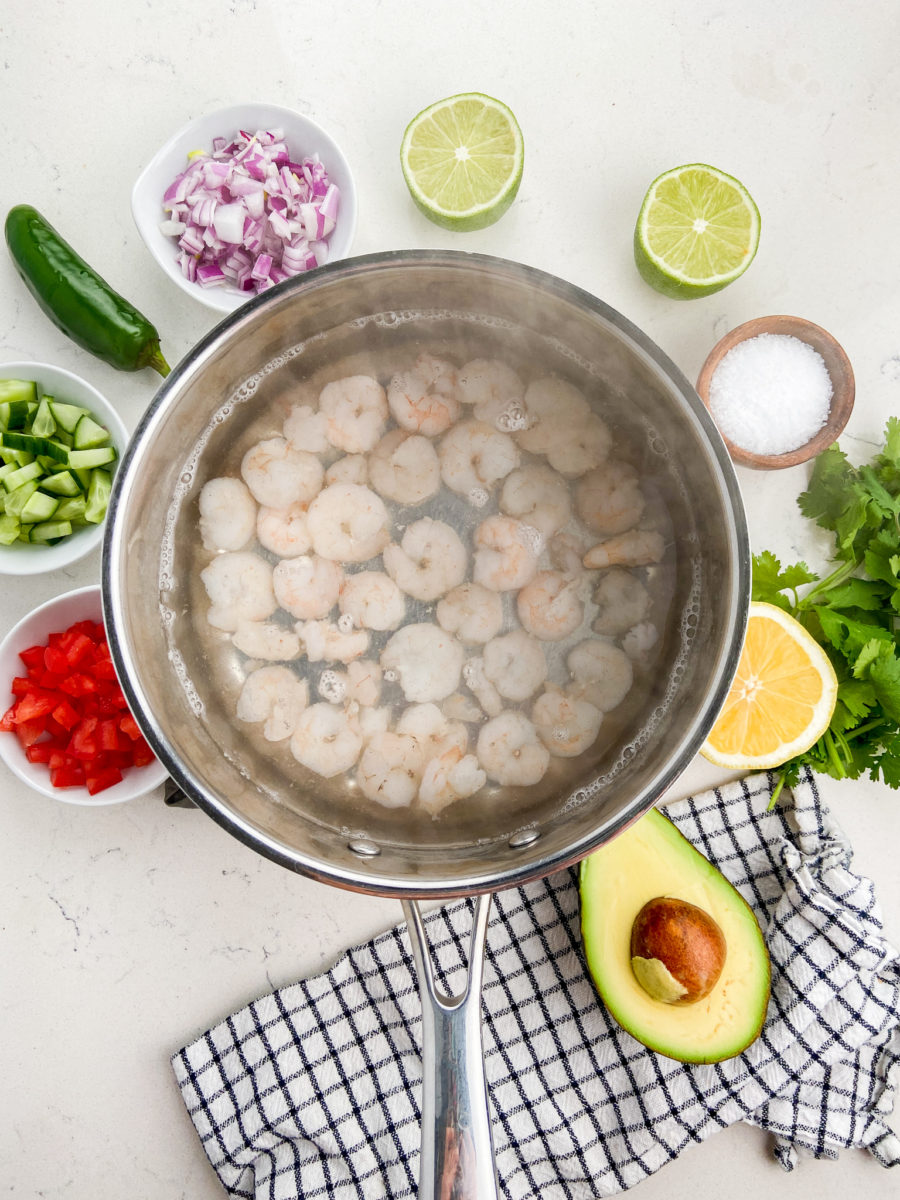 STEP #1: Bring a pot of water to a boil. Once it starts boiling, turn off the heat and add the peeled and deveined shrimp. Allow it to simmer in the hot water for 3 – 5 minutes or until it is opaque. Remove from the water and allow to cool. Once cool cut into, slightly smaller than bite-sized, pieces.
STEP #2: Combine the cooled shrimp and remaining ingredients together in a large bowl. Cover and let refrigerate for at least 1 hour but not more than 24. Season to taste with salt.
Storing leftovers:
Shrimp ceviche is really best eaten the day that it is made. And I personally wouldn't eat it after the 24 hour point for a couple of reasons. One: the avocado will likely start to break down. Two: The citrus juices will continue to cook the shrimp which will result in a rubbery texture.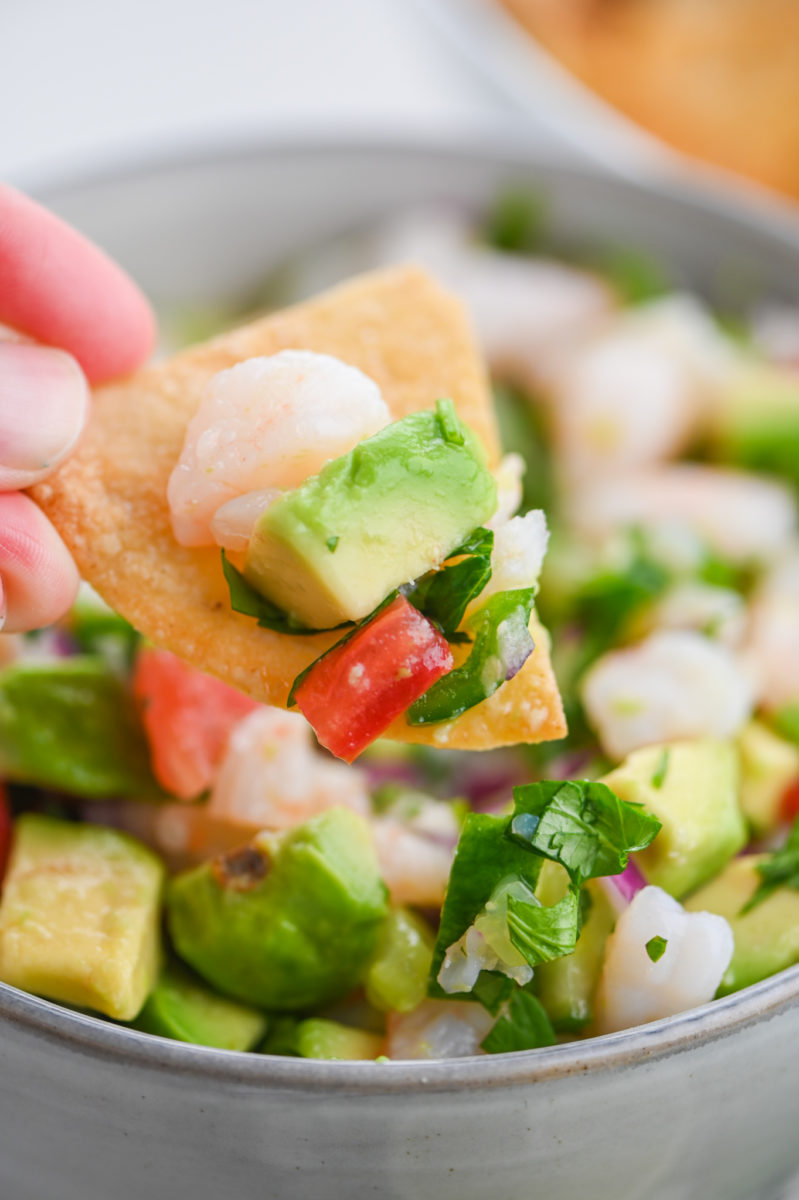 Recipe FAQ
What is ceviche?
Ceviche is a South American Seafood dish originally from Peru. It is typically made with raw seafood that is "cooked" in citrus juices like fresh lemon or lime juice.
Is ceviche raw or cooked shrimp?
Some shrimp ceviche recipes are made with raw shrimp but this recipe is made with poached shrimp to alleviate any concerns about food borne illness from raw seafood.
What happens if you don't devein shrimp in ceviche?
It won't hurt you, however, deveining the shrimp will result in better tasting ceviche. As well as make it more aesthetically pleasing. If you need help deveining use this guide for How to Peel and Devein Shrimp.
I'd be lying if I said that the kiddos dug this recipe. However, my husband and I devoured it! It is certainly going to be on our rotation all summer long.
MORE LATIN FLAVOR PARTY DISHES:
Since you'll be making homemade tortilla chips to serve with this shrimp ceviche why not also make some fresh easy guacamole and pico de gallo for your vegetarian guests.
If you really want to spice things up, serve some Habanero Hot Sauce along side. With 10 habaneros, it is not for the faint of heart!
MORE SHRIMP DISHES:
If you love the Latin flavors of this Shrimp Ceviche recipe, try these Shrimp Tacos with Cilantro Lime Sour Cream. The sauce is to die for!
Bang Bang Shrimp are another super popular shrimp appetizer! They are always a crowd pleaser.
Popcorn Shrimp with its crispy, crunchy crust, is something that the whole family will love.
If I had to pick my absolute favorite pasta to serve in the summer, it would be this Shrimp Linguine with Zucchini and Tomatoes it is bursting with summer flavor!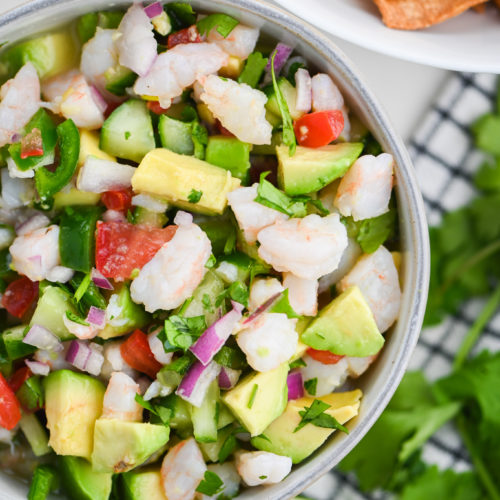 Shrimp Ceviche
Shrimp Ceviche is light, fresh and full of flavor. Poached shrimp marinated with cucumber, avocado, tomatoes, onion, lemon and lime.
12

ounces

shrimp

peeled and deveined

1/2

cup

diced cucumber

1/2

cup

diced tomatoes

1/4

cup

diced red onion

1

jalapeno

1

avocado

1/4

cup

fresh lemon juice

1/4

cup

fresh lime juice

1/4

cup

cilantro

salt
Heat a pot of water to a boil. Turn off heat and add shrimp. Allow to poach in the water 3 – 5 minutes or until the shrimp are opaque. Allow to cool then cut into small pieces.

Combine shrimp and remaining ingredients together in a bowl. Mix well. Cover and refrigerate for at least 1 hour but not more than 24. Season to taste with salt. Serve with chips.
Ceviche is best served a couple of hours after making it. I don't recommend eating this after 24 hours. The shrimp will "cook" in the lime juice so it will become tough if you wait too long. 
If you're feeing a crowd this recipe can easily be doubled. 
Nutrition information for estimation purposes only. 
Calories:
172
kcal
Carbohydrates:
9
g
Protein:
19
g
Fat:
8
g
Saturated Fat:
1
g
Polyunsaturated Fat:
1
g
Monounsaturated Fat:
5
g
Trans Fat:
1
g
Cholesterol:
137
mg
Sodium:
109
mg
Potassium:
609
mg
Fiber:
4
g
Sugar:
2
g
Vitamin A:
234
IU
Vitamin C:
24
mg
Calcium:
79
mg
Iron:
1
mg
Keywords:
bay shrimp, seafood